Poem of the Week 415, Times Square, Lidia Chiarelli
|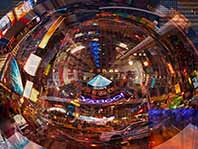 Times Square
Switch on
switch on once more
lights at Times Square.
Switch on for me
in my last night in New York.
The hot air in the streets is a gentle cloak
that wraps me up.
Like windmills moving and moving
don't stop your dance.
Let my eyes get lost
again
into your
whirl
so sweet
so intoxicating.
Lidia Chiareli, Italy