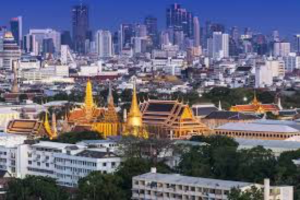 BANGKOK
Confused and scattered
eternal holy city
brilliant light of gold
reeking of smoke and ash.
Is it possible to dim the gleam of pearl
cleaning this dusty overcast earth?
Beautiful Chao Phraya
continues to flow as the sun sinks.
Dull fading green
this earth is eroded and torn.
Skyscrapers and monasteries
congested streets.
Bangkok,
everything shakes in utter chaos.
Day turns to unchanging night.
My country's capital!
NAOWARAT PONGPAIBOON, Thailand (1940)
Translation: Zakaria Ali – Stanley Barkan