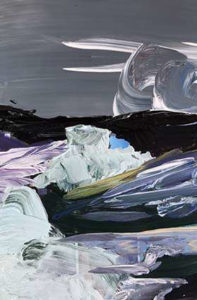 FUTURE TEAR
The wave growls, rebels,
Its back of foam
Smashes the moment,
Leaves deep marks in the
So terrified sky.
Maybe one day
The shadow of the ships
Will proclaim the mystery of the distance.
Like Icarus, with stone wings,
Flying behind the horizon,
Revealing itself as a future tear,
As a tear of the time.
ION DEACONESCU, Rumania (1947)
Translation Gabriela Căluțiu Sonnenberg – Germain Droogenbroodt – Stanley Barkan
From: "Ferestre Zidite" – Zugemauerte Fenster