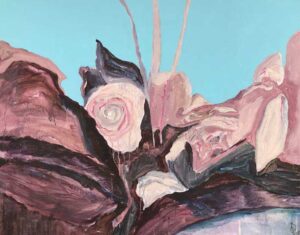 DIARY PAGE 80
The climbing roses bloom,
as if the landscape bleeding to death.
As if it has opened its veins.
As if it knows what is to come.
Also, the landscape, they will claim,
may not anymore just be—
it, too, must be for or against.
REINER KUNZE, GERMANY, 1933
Translation Germain Droogenbroodt – Stanley Barkan
from: "Zimmerlautstärke", © Fischer Verlag, 1972
***
Tagebuchblatt 80//Die kletterrosen blühn, als verblute die landschaft // Als habe sie sich/die adern geöffnet //Als wisse sie, was kommt // Auch die landschaft,/werden sie behaupten, dürfe/nicht mehr nur sein, auch sie/müsse dafür sein oder dagegen.