Projection of Poetry & Light at the Piazza San Marco in Venice
|
The Venecian artist Marco Nereo Rotelli who exhibited his works several times at the Biennale di Venezia, founded in 2000 "ART PROJECT". He recently invited 83 poets from all over the world to write a poem for his new project Poesia e Luce Venezia (Poetry and Light Venice). These poems are currently being projected at the Piazza San Marco in Venice and have been published with illustrations of the artist. The poem "Venice" by Germain Droogenbroodt is one of the selected poems.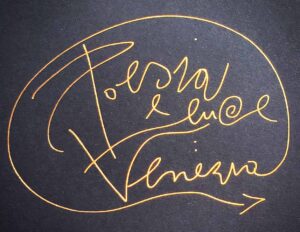 Venice
 As if time did not engrave
its wrinkles in your beautiful face

flowing between old
and new times
the water 
passing by
below your countless bridges
apparently the same and unchanged
the water

passing by
as so many artists who created Venice
but left traces of eternal beauty.
 Germain Droogenbroodt