DE GROT VAN DANTE, Fiona Sampson, Engeland
|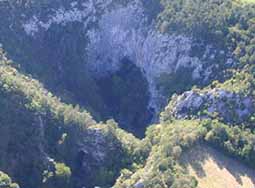 De grot van Dante

Velika Dolina, Skocjan

Uiteindelijk kwam ik
aan het einde van de wereld
aan een kalkstenen klip
die in bleke treden neervalt
en ver beneden een poel
op een of andere manier uit een mythe
die bewees dat er
niets anders was dan de rots
om mij vast te houden en op te tillen
tot in de heldere lucht
waar kraaien rondcirkelden, waar het oog
van God goud was.
en achteloos zag ik dan
dat het einde lucht is
en het neervallend zuiver
en mooi is en blauw.
Fiona Sampson (Engeland)
Vertaling Germain Droogenbroodt

***
DANTE'S CAVE//Finally I came/to the end of the world/to a limestone cliff/falling in pale steps//and far below a pool/somehow out of myth/proving that there/was nothing but the rock//to hold me up to raise me/into that clear air/where crows were looping where the eye/of God was gold//and inattentive then/I saw the end is air/and falling it is clean/and lovely it is blue.