ONTMOETING MET DICHTERS
|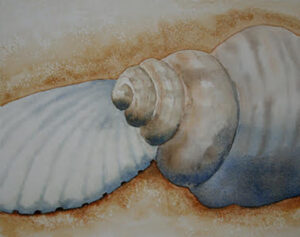 Bij ontmoetingen met dichters raak ik soms wat onthuts
door de kleur van hun sokken
het vermoeden van een pruik
de wesp in hun stem
en soms ook een klamme lucht.
Het is best ze in gedichten te ontmoeten:
koele gespikkelde schelpen
waarin men een trieste
maar verre zee kan horen.
EUNICE DE SOUZA, India (1940)
Vertaling Germain Droogenbroodt
Uit: "The Oxford India Anthology, 12 modern Indian poets"
***
Meeting poets // Meeting poets I am disconcerted sometimes / by the colour of their socks / the suspicion of a wig
/ the wasp in the voice / and an air, sometimes, of dankness. / Best to meet them in poems: / cool speckled shells
in which one hears / a sad but distant sea.
***
Op de website van POINT kan je in het Nederlands,
Engels en Spaans nog eerder
verschenen Gedichten van de Week vinden: www.point-editions.com