683 | Electric Love | Daniela Andonovska-Trajkovska, North Macedonia
|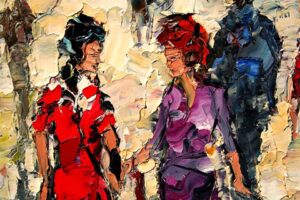 Painting by André Dluhos, Slovakia
Poem of the Week Ithaca 683 "ELECTRONIC LOVE"
DANIELA ANDONOVSKA-TRAJKOVSKA, North Macedonia (1979)
– All translations are made in collaboration with Germain Droogenbroodt –
Poem in Dutch, Spanish, French, English, Italian, German, Portuguese, Sicilian, Romanian, Polish, Greek, Chinese, Arab, Hindi, Japanese, Farsi, Bulgarian, Icelandic, Russian, Filipino, Hebrew, Tamil, Bangla, Irish, Serbian, Macedonian, Armenian, Indonesian, Malay, Catalan

ELEKTRONISCHE LIEFDE

De liefde is te koop in de etalages van het verlangen,
in het Boek der Gezichten waar iedereen een selfie plaatst
met een vertwijfeld, gekunsteld gezicht,
een optooien van de melancholische alledaagsheid
in een maatschappij waar alles gekocht kan worden
voor slechts 2,99 euro met 50 procent korting.
Maar in werkelijkheid is het de ziel die werd ontwaard.
Vertaling Germain Droogenbroodt in samenwerking met de dichteres
***
AMOR ELECTRÓNICO
El amor se vende en los escaparates del deseo,
en el Book of Faces donde todo el mundo tiene un selfie
poniendo artificiosos morritos de pato
como un pop-up de la cotidianidad melancólica
en la sociedad donde todo se puede comprar
por sólo 2,99 euros con un descuento del 50 por ciento.
Pero es el alma quien realmente se devaluó.
Traducción Germain Droogenbroodt – Rafael Carcelén
***
AMOUR ÉLECTRONIQUE
L'amour est à vendre aux étalages du désir,
dans le Livre des Visages où tout le monde prend un selfie
d'une moue, d'une mimique maniérée,
agrément d'un quotidien mélancolique
dans une société où tout s'achète
pour seulement 2, 99 euros avec ristourne de 50 %.
Alors qu'en réalité c'est l'âme qui perd de sa valeur.
Traduction Germain Droogenbroodt – Elisabeth Gerlache
***
ELECTRONIC LOVE
Love is on sale in the shop windows of desire
in the Book of Faces where everyone is taking a selfie
with the duck face of despair
as a pop-up of the melancholic everyday
in the society in which everything can be bought
for only 2.99 euros at a 50-percent discount
—but the soul is what's really reduced.
Translated by the author & Stanley Barkan
***
AMORE ELETTRONICO
L'amore è in vendita nelle vitrine del desiderio
nel FacciaLibro dove ognuno si fa un selfie
con la duck face della disperazione
come un pop-up di malinconia giornaliera
in una società dove tutto può essere comprato
per soli 2.99 euros al 50% di sconto—
ma è l'anima ad essere veramente scontata.
Traduzione Luca Benassi insieme all'autrice.
***
ELEKTRONISCHE LIEBE
Die Liebe wird in den Schaufenstern der Begierde verkauft
im Buch der Gesichter, wo jeder ein Selfie macht
mit einem verzweifelten Duck Face
als Pop-up des melancholischen Alltags
in der Gesellschaft, in der man alles kaufen kann
für nur 2,99 Euro mit einem 50-prozentigen Rabatt.
Aber in Wirklichkeit ist es die Seele die abgewertet wurde.
Übersetzung Germain Droogenbroodt – Wolfgang Klinck
***
Amor eletrônico
O amor se vende nas vitrinas do desejo,
no Book of Faces onde todo mundo tem uma selfie
fazendo falsos biquinhos
feito um pop-up da continuidade melancólica
na sociedade onde tudo se pode comprar
por somente 2,99 euros com desconto de cinquenta por cento.
Mas a alma é o que realmente se desvalorizou.
Tradução ao português: José Eduardo Degrazia
***
AMURI ELETTRONICU
L'amuri si vinni nta li vitrini dî putii dû disidderiu
Ntô libbru di li facci unni tutti scattanu selfie
Cu la facci dispirata di papira
Comu cumparsa di la malincunia quotidiana
Nta na sucietà unni ogni cosa si po' accattari
Pi du' euru e novantanovi sordi
Cu lu scuntu dû 50 pircentu—
Ma zoccu si riduci è l'arma.
Traduzioni in sicilianu di Gaetano Cipolla
***
IUBIRE ELECTRONICĂ
Iubirea-i de vânzare în vitrinele dorinței
în Cartea Fețelor, în care fiecare pune un selfie
cu buze țuguiate în grimase disperate,
pop-up din ternul trai cotidian,
o societate în care totul se poate cumpăra
la numai 2,99 Euro, rabat 50 la sută,
însă redus, în realitate, e sufletul.
Traducere: Gabriela Căluțiu Sonnenberg
***
ELEKTRONICZNA MIŁOŚĆ
Miłość jest na sprzedaż w sklepowych witrynach pragnień
w Księdze Masek, gdzie wszyscy mają swoje selfie
z kaczymi dzióbkami  desperacji
jako pop-up melancholijnej codzienności
w społeczeństwie, gdzie wszystko można  kupić
za jedyne  299 denarów z 50-procentową obniżką —
tak naprawdę jedynie dusza ulega redukcji
Przekład  na polski: Mirosław – Małgorzata Żurecka
Translation into Polish by Mirosław – Małgorzata Żurecka
***
ΗΛΕΚΤΡΟΝΙΚΗ ΑΓΑΠΗ
Η αγάπη για πούλημα στη βιτρίνα πόθου
στης μοίρας το βιβλίο καθώς όλοι
παίρνουν ένα σέλφι απόγνωσης
καθημερνή μελαγχολία στην κοινωνία
που όλα αποκτούνται με 2.99 Ευρώ
σε έκπτωση 50 %
κι η ψυχή είναι που στ' αλήθεια
χάνει την όποια αξία της
Μετάφραση Μανώλη Αλυγιζάκη
Translation into Greek by Manolis Aligizakis
***
电子时代的爱情
爱情在欲望的商店橱窗里销售
在脸书里每个人正带着绝望的
嘟嘴照在玩自拍
犹如忧郁的日常的弹出视窗
在这个社会里只需2.99欧元,
享受五折优惠-什么都可购买,
但灵魂才真正在衰减贬值。
英译:诗人自译-斯坦利·巴坎
汉译:中        国  周道模    2021-5-7
Translation into Chinese by William Zhou
***
حب إلكتروني
الحب بضاعة تزين واجهات متاجر الرغبات بحثا عن مشتر
فيبحر في دليل الوجوه التي التقط كل واحد منها صورة سيلفي
صور تتجلى ملامح اليأس فيها
لكأنها منشور دعائي لحياتنا اليومية الكئيبة.
وفي مجتمع يباع كل شيء فيه ويشترى
بثمن بخس وبتخفيض لنصف السعر
فإن الروح هي الرواج بأرخص الأسعار.
ترجمته عن الإنجليزية سارة سليم
Translation into Arab by Sara Slim
***
इलेक्ट्रॉनिक प्यार
प्रेम इच्छा की दुकान की खिड़कियों में बिक्री पर है
चेहरे की पुस्तक में
जहां हर कोई एक सेल्फी ले रहा है
निराशा के प्रबंधित चेहरे के साथ
हर रोज बहुत दुख के रूप में पॉप अप करता है
जिस समाज में सब कुछ खरीदा जा सकता है
पचास प्रतिशत की छूट पर केवल दो .९९ यूरो में
लेकिन आत्मा ही है जो वास्तव में कम हो जाती है।
Hindi translation by Jyotirmaya Thakur.
***
エレクトロニック・ラブ
愛は欲望のショーウィンドーで安売りされている。
無理やり笑った自分の写真を見せるアプリの中で
憂鬱な毎日から飛び出すために
何でも5割引の2ユーロ99セントで買えてしまう社会
しかし一番安売りされているのは魂だ
ダニエラ・アンドノフスカ–トラジコフスカ
(北マケドニア・1979年)
Translation into Japanese by Manabu Kitawaki
***
عشق الکترنیکی
عشق برای فروش در ویترین مغازه‌هاست
در کتابی که همه با آن سلفی می‌گیرند
با صورتهای اردک مانند ناامید
 هر روز به شکلی مالیخولیایی خود را نشان می‌دهد
در جامعه‌یی که همه‌چیز را می‌توان خرید
برای ۲.۹۹ یورو با ۵۰ سنت تخفیف
اما روح چیزیست که ازآن اشیاء جدا کرده‌اند
ترجمه: سپیده زمانی
Translation into Farsi by Sepideh Zamani
***
ЕЛЕКТРОННА ЛЮБОВ
Любовта се предлага по прозорците на желанието
в Книгата от лица където всеки си прави селфи
с изкуствено лице на отчаянието
като внезапна реклама на меланхоличното ежедневие
в обществото в което всичко може да бъде купено
само за 2.99 евро при 50 процента отстъпка –
но духът е това което е наистина обезценено.
превод от английски: Иван Христов
Translation into Bulgarian by Ivan Hristov
***
RAFRÆN ÁST
Ástin er á útsölu í búðargluggum óskanna
í Fésabókinni þar sem allir taka sjálfu
og setja stút á varirnar í örvæntingu
sem pop-up í depurð hvunndagsins
í þjóðfélagi þar sem allt fæst keypt
á aðeins 2,99 evrur með 50 prósenta afslætti —
en í raun og veru var sálin skorin niður.
Þór Stefánsson þýddi
Translation into Icelandic by Þór Stefánsson
***
ЭЛЕКТРОННАЯ ЛЮБОВЬ
Любовь покупают в витринах желаний,
в Книге всех Лиц, где у каждого селфи
и на фото отчаянно уточкой губы,
и каждый день грусть появляется
там, где все продается и все покупается
всего за сотню, да с огромной скидкой.
А на самом деле – утекает душа.
Перевод на русский язык Дарьи Мишуевой
Translation into Russian by Daria Mishueva
***
ELEKTRONIKONG PAG-IBIG
Ang Pag-ibig ay nabebenta sa tindahan ng pagnanasa
Sa Aklat ng mga Mukha kung saan ang bawat isa ay kinukunan ng
larawan ang kanyang sarili
na nagmukhang pato sa pagkadismaya
sa pagsulpot ng kalungkutan sa bawat araw
sa lipunang lahat ay mabibili
sa halagang 2.99 euro at kalahati pa ang diskwento –
subalit ang kaluluwa ang tunay na nabawasan.
Isinalin sa Wikang Filipino-Eden Soriano Trinidad
Translation into Filipino by Eden Soriano Trinidad
***
אהבה אלקטרונית /
דניאלה אנדונובסקה-טרג'קובסקה, מקדוניה הצפונית
הָאַהֲבָה בְּמִבְצָע בַּחַלּוֹנוֹת הָרַאֲוָה שֶׁל הַתְּשׁוּקָה
בְּ"סֵפֶר הַפָּנִים", שָׁם כֻּלָּם מְצַלְּמִים סֶלְפִי
בְּפַרְצוּף מְאֻלָּץ שֶׁל יֵאוּשׁ
כְּיוֹמְיוֹם מֶלַנְכּוֹלִי שֶׁצָּץ לְפֶתַע
בְּחֶבְרָה שֶׁבָּהּ אֶפְשָׁר לִקְנוֹת הַכֹּל
ב-9.99 וּבַחֲצִי-חִנָּם –
אֲבָל הַנְּשָׁמָה הִיא מָה שֶׁבֶּאֱמֶת מִצְטַמְצֵם.
תרגום לאנגלית: המשוררת וסטנלי ברקן
תרגום לעברית: דורית ויסמן
Translation into Hebrew by Dorit Weisman
***
மின்மக் காதல்/அன்பு
விருப்பம் என்னும் கடையில் அன்பும் காதலும் விலைக்கு
முகநூலில் ஒவ்வொருவரும் 'செல்ஃபீ' எடுத்துக் கொள்கின்றனர்
நம்பிக்கை இழந்த நிலையில்,தலை தாழ்ந்த நிலையில்
ஒவ்வொரு நாள் வேதனை ஒலியோடு
எதை வேண்டுமானாலும் பெறக்கூடிய சமுதாயத்தில்
பணத்தோடு- தள்ளுபடியோடு
ஆனால் இழப்பது, குறைத்துக் கொள்வது ஆன்மாவை!
ஆக்கம்
Translation into Tamil by NV Subbaraman
***
বৈদ্যুতিন ভালোবাসা
কামনার দোকানের জানালায় বিক্রি হয় প্রেম
যেখানে সবাই ফেসবুকে সেলফি তুলে
মেকি মুখের সাথে নিয়ে হতাশা
স্বয়ংক্রিয়ভাবে- ভেসে ওঠা প্রতিদিনের বিষন্নতা নিয়ে
সেই সমাজে যেখানে কেনা যায় সবকিছু
শুধুমাত্র ২. ৯৯ ইউরো দিয়ে সাথে ৫০- ছাড় শতাংশ —
কিন্তু যেথায় আত্মা হয় সত্যিই সংকুচিত ।
লেখক ও স্ট্যানলি বারকান ইংরেজি অনুবাদ করেছেন
Bangla translation: Tabassum Tahmina Shagufta Hussein
***
AN GRÁ LEICTREONACH
Tá an grá ar díol i bhfuinneoga siopaí
ar Facebook sna féiníní
mar phus puisíneach
baothdhána baoiseach
i sochaí fhéindhíolta
ar an luach is ísle—
níl fágtha den anam ach oiread na fríde.
Aistrithe go Gaeilge ag Rua Breathnach
Translation into Gaelic by Rua Breathnach
***
ELEKTRONSKA LJUBAV
Ljubav se prodaje u izlozima želja
u Knjizi Lica gde svako pravi selfi
sa usnama napućenim u očaju
kao iznenadna pojava sumorne svakodnevnice
u društvu u kome se može sve kupiti
za samo 2.99 eura sa 50% popusta-
ali je u stvari duša ta kojoj je cena smanjena.
Sa englesko prevelar S. Piksiades
Translation into Serbian by S. Piksiades
***
ЕЛЕКТРОНСКА ЉУБОВ
љубовта денес се продава во излозите на желбите
во Книгата со маски каде сите имаат селфи
со duck face на очајот
како поп-ап на меланхоличното секојдневие
во општеството во кое сѐ може да се купи
за само 299 денари и каде сѐ е на 50 посто попуст,
а само душата е вистински намалена
Даниела Андоновска-Трајковска
Daniela Andonovska-Trajkovska
***
ԷԼԵԿՏՐՈՆԱՅԻՆ ՍԵՐ
Սերը զեղչված է Դիմագրքի
ցանկության ցուցափեղկերում,
որտեղ բոլորը սելֆի են անում
տխուր առօրյայից դուրս պրծած
հուսահատության արհեստական դեմքերով
հասարակության մեջ, ուր կարելի է գնել ամեն բան
50 տոկոս զեղչով՝ ընդամենը 2,99 եվրոյով,
բայց իրականում էժանացել է միայն գինը հոգու:
Անգլերենից թարգմանեց Արմենուհի Սիսյանը
Translation into Armenian by Armenuhi Sisyan
***
CINTA DI DUNIA MAYA
Cinta dijual di jendela toko hasrat
di buku muka ber-selfie ria penuh sesak
wajah itik pelik mulut manyun berputus asa
menyembul muncul wajah melankolis setiap hari
di masyarakat yang segalanya bisa dibeli
hanya untuk 2.99 euros dengan 50 persen reduksi—
namun hakikatnya jiwa terdepresiasi
Translation into Idonesian by Lily Siti Multatuliana
***
CINTA ELEKTRONIK
Cinta sedang dijual di tingkap-tingkap kedai nafsu
di Buku Muka tempat setiap orang mengambil gambar diri.
dengan cemikan muka kecewa
sebagai kemunculan kemurungan setiap hari
dalam masyarakat tempat semuanya dapat dibeli
dengan hanya 2.99 euro pada diskaun 50 peratus—
tapi roh yang sebenarnya dirosoti.
Translation into Malay by Dr Irwan Abu Bakar
***
AMOR ELECTRÒNIC
L'amor es ven als aparadors del desig
en el Llibre de les Cares on tots es fan un selfie
fent morrets de desesperació
com un element emergent de la quotidianitat malenconiosa
en la societat en la qual tot es pot comprar
per només 2,99 euros amb un descompte del 50 per cent─
però el que realment es redueix és l'ànima.
Traducció al català: Natalia Fernández Díaz-Cabal