701 | Words – Kamala Das, India
|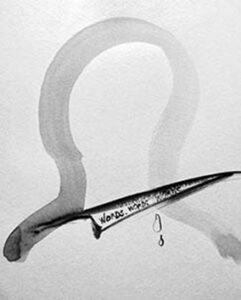 Drawing by Satish Gupta, India
gupta_ zazen – zazenstudio@gmail.com
 Poem of the Week Ithaca 701 "WORDS",
KAMALA DAS, India 1934–2009
– All translations are made in collaboration with Germain Droogenbroodt –
Poem in Poem in French, Italian, German, Portuguese, Romanian, Greek, Icelandic and in in Arabic, Armenian, Bangla, Catalan, Chinese, Farsi, Greek, Hebrew, Hindi, Indonesian, Irish (Gaelic), Japanese, Kiswahili, Kurdish, Macedonian, Malay, Montenegrin, Polish, Russian, Serbian, Sicilian, Tamil
MOTS
Partout autour de moi il y a des mots, des mots et des mots,
ils me poussent comme des feuilles, ils semblent
ne jamais terminer leur lente croissance de l'intérieur
mais je me dis, les mots
sont une charge, -toi d'eux, ils
peuvent être tant méfie de choses, un
gouffre où des pieds qui courent doivent faire une pause, pour
regarder, une mer aux vagues paralysantes,
une explosion d'air brûlant ou,
un couteau prêt à trancher la gorge
de ton meilleur ami … Les mots sont une charge, mais
ils me poussent comme des feuilles à un arbre,
ils semblent ne jamais arrêter de venir,
d'un silence, quelque part profondément à l'intérieur …
KAMALA DAS, L'Inde 1934 – 2009
Traduction Germain Droogenbroodt – Elisabeth Gerlache
***
PAROLE
Tutto intorno a me è parole, parole e parole,
mi spuntano addosso come foglie, mai sembrano
fermare il loro crescere lente
da dentro … mi dico: eppure le parole
sono un fastidio, sappilo,
possono essere molte cose,
un crepaccio dove il piede di chi corre deve fermarsi
e guardare, un mare di onde immobili,
uno scoppio di aria rovente,
un coltello pronto a tagliare la gola
del tuo migliore amico… le parole sono un fastidio
eppure mi spuntano addosso come foglie di un albero,
mai sembrano fermare il loro arrivo,
dal silenzio, da un luogo nel dentro più profondo …
KAMALA DAS, India 1934–2009
Traduzione di Germain Droogenbroodt – Luca Benassi
***
WORTE
Überall um mich herum sind Worte, Worte und Worte,
sie wachsen an mir wie Blätter, sie scheinen
nie ihr langsames Wachsen von innen
heraus zu beenden …Aber ich sage mir, Worte
sind ein Ärgernis, hüte dich vor ihnen, sie
können so viele Dinge sein, ein
Abgrund, in dem laufende Füße anhalten müssen, um
Ausschau zu halten, ein Meer mit lähmenden Wellen,
ein brennender Windstoß oder,
ein Messer, das bereit ist, deinem besten Freund
die Kehle durchzuschneiden … Worte sind ein Ärgernis, aber
sie wachsen an mir wie Blätter an einem Baum,
sie scheinen nie aufzuhören zu sprießen,
aus einer Stille, irgendwo tief im Inneren …
Kamala Das, Indien 1934 – 2009
Übersetzung Germain Droogenbroodt – Wolfgang Klinck
***
PALAVRAS
À minha volta há palavras, e palavras e palavras,
crescem sobre mim como folhas, nunca
parecen parar o seu lento crescimento
vindo de dentro… Mas, digo para mim que as palavras
são um aborrecimento, toma cuidado com elas, podem
ser muitas coisas, um
abismo onde os pés que correm devem parar para
olhar um mar com ondas paralizantes,
um sopro de ar ardente ou,
um punhal mais que pronto a cortar a garganta do teu melhor
amigo … As palavras são um aborrecimento, mas
crescem sobre mim como as folhas numa árvore,
parece que nunca deixam de vir
de um silêncio, algures, de um lugar bem fundo …
Kamala Das, Índia 1934 – 2009
Tradução portuguesa: Maria do Sameiro Barroso
***
CUVINTE
În jurul meu cuvinte, cuvinte și cuvinte,
Mă acoperă crescând ca frunzele,
Nu încetează niciodată ieșirea la lumină
Răsar din profunzimi … Dar eu îmi zic, cuvintele
Sunt o nenorocire, feriți-vă de ele,
Pot însemna atât de multe lucruri,
Prăpăstii în care pașii se afundă, pentru ca noi
Să putem admira marea, cu valurile ei paralizante,
Ele pot fi furtuni cu aer arzător, sau un cuțit
Gata să taie gâtul celui mai bun prieten …
O pacoste sunt ele, cuvintele, însă fără încetare
Din mine ies ca frunzele pe un pom,
Nu dau semne că ar vrea să întârzie vreodată,
Nasc în tăcerea care îmi zace în adânc …
KAMALA DAS, India
Traducere: Gabriela Căluțiu Sonnenberg
Translated into Romanian by Gabriela Căluțiu Sonnenberg
***
ΛΕΞΕΙΣ
Παντού γύρο μου λέξεις και λέξεις
που πάνω μου φυτρώνουν σαν φύλλα
ποτέ δεν σταματούν εκ των έσω
προς τα έξω, μα λέω στον εαυτό μου
πως οι λέξεις είναι μπελάς, πρόσεχε τες
μπορεί να γίνουν τόσα άλλα πράγματα, ένα
χάσμα που τα πόδια του δρομέα σταματούν μπροστά του
η θάλασσα με τα αιώνια κύματα της
μια έκρηξη ψηλά στον αέρα
ή το μαχαίρι που μπορεί να κόψει
το λαιμό του φίλου σου, οι λέξεις
είναι μπελάς μα φυτρώνουν πάνω μου
σαν φύλλα του δέντρου
ποτέ δεν σταματούν να `ρχονται
σαν απ' τη σιωπή βαθειά μέσα μου
Kamala Das, India 1934–2009
Μετάφραση Μανώλη Αλυγιζάκη
Translated into Greek by Manolis Aligizakis
***
ORÐ
Allt í kring eru orð, og orð og orð.
Þau vaxa á mér eins og lauf. Þau
ljúka aldrei hægum vexti
að innan… En ég hugsa með mér, orð
eru plága, gætið ykkar á þeim. Þau
taka á sig ýmsar myndir, ‒
hyldýpi og maður verður að stansa á hlaupunum.
Lítið á, haf með lamandi öldum,
logandi eldgustur,
hnífur býðst til að skera
besta vin manns á háls… Orð eru plága, en
þau vaxa á mér eins og lauf á tré,
Þau birtast áfram endalaust,
úr þögn, djúpt úr iðrum…
Kamala Das, Indlandi, 1934–2009
Þór Stefánsson þýddi
Translated into Islandic by Thor Stefánsson
***
كلمات
كل ما يحيط بي كلمات…كلمات وكلمات
هي تنمو بداخلي كأوراق شجر،
 ولا يبدو بأنها ستتوقف عن النمو البطيء بداخلي
لكنني:
 لا أنفك أحدث نفسي، عن كونها قد تحمل إزعاجا….
ـــــــــــ احذر منها، يمكن أن تكون أي شيء..
"فجوة"
 تعجز الأقدام الجريئة على التوقف
بمثابة:
 بحر بأمواج مشلولة
 انفجار هواء محترق
أو سكين مستعد لقطع حلق صديقك المفضل
 الكلمات مزعجة
لكنها تنمو عليَّ كأوراق على شجرة
 ولا يبدو أنها ستتوقف عن الصدور
من الصمت
أو من
 مكان ما في أعماقي.
 كمالا داش(KAMALA DAS)، الهند 1934-2009
ترجمة للعربية: عبد القادر كشيدة
Translated into Arab by Mesaoud Abdelkader
***
ԲԱՌԵՐ
Շուրջս բառեր են, բառեր ու բառեր,
Նրանք աճում են ինձ վրա որպես տերևներ,
Որոնք երբեք չեն դադարում աճել ներսից…
Բայց ես ասում եմ ինքս ինձ՝ բառերը
Անախորժություն են պատճառում, զգուշացեք նրանցից,
Նրանք կարող են ամենատարբեր բաներ լինել՝
Անջրպետ, ուր վազող ոտքերը պետք է դադար առնեն,
Ծով՝ կաթվածահար ալիքներով,
Այրվող օդի պայթյուն կամ
Դանակ՝պատրաստ կտրելու
Ձեր լավագույն  ընկերոջ կոկորդը…
Բառերը անախորժություն են,
Բայց  նրանք աճում են ինձ վրա
Ինչպես  տերևները ծառի վրա, ու կարծես երբեք
Չեն դադարի ելնել ներսի խոր լռությունից:
Քամալա Դաս, Հնդկաստան 1934–2009
Translated into Armenian by Armenuhi Sisyan
Հայերեն թարգմանեց Արմենուհի Սիսյանը
***
শব্দ
আমার চারপাশ ঘিরে আছে শব্দ, আর শব্দ আর শুধু শব্দ,
         তারা    আমার উপর পাতার মত গড়ে ওঠে, তারা কখনোই
থামেনা তাদের ধীর গতির বেড়ে ওঠায়
নিজের ভিতর থেকে… কিন্তু আমি বলি নিজেকে, শব্দ
হোল একরকম আপদ, সতর্ক থাকুন তাদের থেকে, তারা
হতে পারে অনেক কিছুই, এক
গভীর খাত যেখানে দৌড়ে যাওয়া পদযুগল কে দিতে হয় নিশ্চিতভাবে বিরতি, দেখতে
একটি, সাগর সাথে নিয়ে পক্ষাঘাতগ্রস্ত ঢেউ,
একটি জ্বলন্ত বায়ু রাশির বিস্ফোরণ অথবা,
একটি ছুরি যে সর্বোচ্চভাবে ইচ্ছুক কাটতে আপনার শ্রেষ্ঠ
 বন্ধুর গলা… শব্দরা একটি আপদ, কিন্তু
তারা আমার উপর গাছের পাতার মত গড়ে ওঠে,
তারা কখনোই থামেনা তাদের আসায়
নিঃশব্দতা থেকে, নিজ মাঝারে কোথাও গভীর…
কমলা দাস, ভারত ১৯৩৪–২০০৯
Bangla Translation: Tabassum Tahmina Shagufta Hussein
***
PARAULES
Al meu voltant hi ha paraules, i paraules i paraules,
creixen sobre mi com fulles, mai
semblen aturar el seu lent creixement
des de dins … Però em dic que les paraules
són una molèstia, vés amb compte amb elles, poden
ser moltes coses, un
abisme on els peus que corren s'han d'aturar, per a
mirar un mar amb onades paralitzants,
una ràfega d'aire ardent o
un ganivet disposat a tallar la gola del teu
millor amic … Les paraules són una molèstia, però
creixen sobre mi com les fulles en un arbre,
sembla que mai deixen de venir
des d'un silenci d'algun lloc de dins …
KAMALA DAS, Índia 1934 – 2009
Traducció: Natalia Fernández Díaz-Cabal
***
词 语
围绕我的都是词语,和词语还是词语,
词语像树叶生长我身上,似乎它们
从未停止过内部的缓慢
生长……但我告诉自己,词语
是个讨厌鬼,要谨防他们,它们
可能是很多东西,一个
奔跑脚步必须停顿的鸿沟,要
瞧的话,是一片波涛瘫痪的大海,
一股燃烧的空气或,
一把最愿割你最好朋友
喉咙的刀……词语是个讨厌鬼,但
它们在我身上长得就像树上的叶子,
从沉默中,从内心深处的某个地方
他们似乎从未停止过他们的光临……
原作:印度  卡马拉 · 达斯 (1934-2009)
汉译:中国  周道模  2021-10-10
Translated into Chinese by Willam Zhou
***
کلمات
در اطرافم کلمات‌ست، و کلمات و کلمات،
مانند برگهایی روی من رشد می‌کنند
و بنظر می‌رسد رشدشان سر ایستادن ندارد
اما من به خود می‌گویم
آنها می‌توانند چیزهای زیادی باشند
دره‌یی که پاهای دوان را متوقف می کند، تا ببیند
دریایی با امواجی افتان و خیزان
انفجار هوای سوزان
چاقویی که می‌خواهد گلوی بهترین دوستت را ببرد
کلمات مزاحمند، اما
مانند برگهایی روی درختی، در من رشد می‌کنند.
بنظر می‌رسد سر توقف ندارند
از سکوت، از جایی در اعماق وجود من.
کاملا داس، هند، ۲۰۰۹-۱۹۳۴
ترجمه: سپیده زمانی
Translatio into Farsi by Sepedih Zamani
***
מלים / קמלה דאס, הודו
Kamala Das, India 1934–2009
הַכֹּל סְבִיבִי מִלִּים, מִלִּים, מִלִּים,
הֵן צוֹמְחוֹת עָלַי כְּמוֹ עָלִים, נִרְאֶה שֶׁלְּעוֹלָם לֹא
תַּפְסֵקְנָה אֶת צְמִיחָתָן הָאִטִּית
מִבִּפְנִים… אֲבָל אֲנִי אוֹמֶרֶת לְעַצְמִי, מִלִּים
הֵן מִטְרָד, הִזָּהֲרִי מֵהֶן, הֵן
יְכוֹלוֹת לִהְיוֹת כָּל כָּךְ הַרְבֵּה דְּבָרִים:
תְּהוֹם, שָׁם רַגְלַיִם רָצוֹת חַיָּבוֹת לַעֲצֹר,
לְהִסְתַּכֵּל, יָם עִם גַּלִּים מְשַׁתְּקִים,
פֶּרֶץ שֶׁל אֲוִיר בּוֹעֵר אוֹ
סַכִּין שֶׁשּׁוֹאֶפֶת לְשַׁסֵּף אֶת גְּרוֹנָם שֶׁל
חֲבֵרַיִךְ הַטּוֹבִים בְּיוֹתֵר… מִלִּים הֵן מִטְרָד, אֲבָל
הֵן צוֹמְחוֹת עָלַי כְּמוֹ עָלִים עַל עֵץ,
לֹא נִרְאֶה שֶׁהֵן תַּפְסֵקְנָה לָבוֹא אֵי פַּעַם,
מִדְּמָמָה, אֵי שָׁם עָמֹק בִּפְנִים…
תרגום לאנגלית: ג'רמיין דרוגנברודט וסטנלי ברקן
תרגום מאנגלית לעברית: דורית ויסמן
Translated into Hebrew by Dorit Weisman
***
शब्दों
मेरे चारों ओर शब्द हैं, और शब्द और शब्द हैं,
वे मुझ पर पत्तों की तरह उगते हैं, वे कभी नहीं
उनकी धीमी गति से बढ़ने से रोकने लगते हैं
भीतर से…
लेकिन मैं खुद से कहता हूं, शब्द
उपद्रव हैं, इनसे सावधान रहें, वे
बहुत सी चीजें हो सकती हैं,
खाई जहां दौड़ते पैरों को रुकना चाहिए,
देखो, लकवा मारने वाली लहरों वाला समुद्र,
जलती हुई हवा का एक विस्फोट या,
एक चाकू जो आपका सबसे अच्छा काटने के लिए तैयार है-  दोस्त का गला…
शब्द एक उपद्रव हैं, लेकिन
वे मुझ पर पेड़ पर पत्तों की तरह उगते हैं,
उनका आना कभी रुकता नहीं दिखता,
एक सन्नाटे से, कहीं गहरे भीतर…
कमला दास, भारत 1934–2009
Hindi translation by Jyotirmaya Thakur.
***
KATA-KATA
Sekelilingku ada kata-kata, dan kata-kata dan kata-kata,
Mereka bersemi dalam diriku bagai daun-daun, mereka tidak pernah
Tampak untuk hentikan pertumbuhan mereka yang perlahan
Dari dalam…Tetapi aku berkata pada diriku sendiri, kata-kata
Mengganggu, waspada pada mereka, mereka
Dapat membuat banyak hal, sebuah
Jurang, tika kaki yang berlari harus berhenti, untuk
Melihat, laut dengan ombak yang melumpuhkan,
Semburan dari udara yang terbakar atau,
Pisau yang sangat ingin memotong
Leher teman-baikmu…Kata-kata sungguh mengganggu, Tetapi
Mereka muncul dalam diriku bagai daun-daun pada tumbuhan,
Mereka tampak tak henti-henti hampiriku,
Dalam hening, di suatu tempat jauh di dalam…
Kamala Das, India 1934–2009
Translated into Indonesian by Lily Siti Multatuliana
***
FOCAIL
Im thimpeall, dom chlúdach, tá focail.
Fásann siad orm mar bhaclóga ar chrann,
Fásann siad go tréan istigh ionam
Agus deirim …cén mhaith iad na focail seo
is iad de shíoraí do mo chrá? Bí ar d'fhaichill, adeirim,
Beirfidh siad amuigh is istigh ort—
Is geall le gríog nó gaineamh reatha iad,
Farraige suaite
nó poll suaraic,
scian a ghearrfadh do scórnach
i bhfaiteadh na súl. Crá croí na focail,
Fásann siad orm mar dhuilleoga ar chrann,
gan stad gan staonadh fásann siad
ón gciúnas, ó áit éigin go domhain ionam féin …
Kamala Das, an India 1934–2009
Aistrithe go Gaeilge ag Rua Breathnach
Translated into Irish (Gaelic) by Rua Breathnach
***
言葉
わたしのまわりは言葉、言葉、言葉だらけ
まるで葉っぱのように大きくなる
内からゆっくりと大きくなり、止めることがないようだ
しかし、わたしは断言する、言葉は迷惑だ
それを知らなければいけない
言葉はあらゆるものになり得る
走者が止まらなければいけない深い溝
波が麻痺するような海を見てみろ
燃える気体の爆発
あるいは、親友の喉をかき切ろうとする刃物
言葉は迷惑だ
しかしそれは樹木の葉っぱのように大きくなる
沈黙の中から、どこか深い内側から
カマラ・ダス(インド,1934-2009
Translated into Japanese by Manabu Kitawaki
***
MANENO
Nimezungukwa kila pahali na maneno mingi,
maneno na maneno zaidi,
Inamea juu yangu kama majani,
haionekani kamwe
kama imekoma kumea pole pole
Kutoka ndani…Lakini najieleza, maneno
Ni kero na upumbavu, kaa chonjo na ujihadhari maneno, yaweza
kukuletea mambo mingi, ni pengo ambalo miguu inayo kimbia lazima
ipumue ikifikia, ili
iangalie, bahari iliyo na mawimbi ya kupooza,
Mlipuko wa hewa inayochomeka ama,
Kisu ambacho kinataka kukata koo la rafiki wako halisi…
Maneno ni kero na upumbavu halisi, lakini
Inamea mwilini mwangu kama majani kwa mti,
Haionekani kamwe kama inakoma kutokea
Palipo kimya, pahali palipo ndani mwangu…
Kamala Das, India 1934–2009
Utafsiri Bob Mwangi Kihara
Translated into Kiswahili by Bob Mwangi Kihara
***
PEYV
Li hawîrdora min her peyv in, peyv û peyv,
ew li ser min wek pelan direwzin, ew tucaran
bibereyî rewza xwe naxuyînin
û ji hundur ve ranawestînin … Lê ez ji xwe re dibêjim
peyv ziyan in, tu xwe ji wan biparêze, ew
kanin pir tiştan bin; kaviliyekê li pêş te
rawestînin taku tu zeryayekê
bi pêlên filîçbûyî, bibîne,
sirweyeke sotîndar yan
kêrekê, ku amadeye bona birîna
gewriya baştirîn dostekî te … Peyv ziayandar in, lê
ew di min de direwzin çawa pelên darekê,
weha dixuye ew naxwazin rawestin, ku ji hêminiyekê
netên, li cihdereke kwîr di hundur de …
Kamala Das, 1934 – 2009 Hindistan
Translation into Kurdish by Hussein Habasch
***
ЗБОРОВИ
Насекаде околу мене има зборови, и зборови и зборови,
Растат тие на мене ко лисја, се чини како никогаш
да не запираат во својот бавен раст
од внатре… Но си велам себеси, зборовите
се непријатност, биди претпазлив со нив, тие
можат да бидат толку многу нешта,
несреќата што ги следи стапалата што трчаат мора да престане,барем за миг,
за да го погледне морето со парализирани бранови,
експлозијата од воздух што гори или
ножот подготвен да го пресече гркланот
на твојот најдобар пријател… Зборовите се непријатност, но
растат тие на мене како лисја на дрво
Се чини нема никогаш да престане нивното доаѓање,
Од тишината, од некаде длабоко од внатре…
КамаЛА Дас, Индија 1934–2009
Превод од англиски: Даниела Андоновска-Трајковска
Translated from English into Macedonian: Daniela Andonovska Trajkovska
***
AKATA-KATA
Di sekelilingku ialah kata-kata, dan kata-kata, dan kata-kata,
Ia berkembang padaku seperti dedaun, tidak pernah ia
Ingin berhenti perkembangan perlahannya
Dari dalaman… Tapi aku katakan kepada diriku, kata-kata
ialah pengganggu, berhati-hati terhadapnya, ia
mungkin berupa apa sahaja, sebuah
jurang tempat kaki yang berlari perlu berhenti, untuk
Melihat, laut dengan ombak yang melumpuhi
semburan udara panas atau,
sebilah pisau yang bersedia memotong
kerongkong rakan… Kata-kata ialah pengganggu, tetapi
Ia berkembang pada diriku seperti dedaun pada pokok,
Tidak nampak mahu berhenti,
Dari kesepian, di mana-mana jauh di dalaman…
Kamala Das, India 1934–2009
Malayan translation by Dr. Irwan Abu Bakar
***
ORIJEČI
Svuda oko mene, riječi su
Riječi i riječi
Prekrivajući me poput lišća
Čini se kao da nikada neće stati
Sa tim mučnim sporim rastom
Iznutra
Stalno govorim sebi:
Riječi su nesreća
Čuvajte se riječi
U njih stane toliko mnogo stvari
Zatrpanih u ponoru u kojem noge za trčanje moraju porinuti
Kao u moru sa parališućim valovima
Naletu gorućeg vazduha
Ili pak noža isukanog u spremnosti da isječe
Čak i grlo najboljeg prijatelja
Riječi su kob
Riječi po meni rastu poput lišća sa drveta
Čini se da nikada neće stati
Zakopati
Se u tišini
Negdje duboko u nutrini
Kamala Das, India 1934 – 2009
Translated from English: Katarina Sarić, Montenegro
****
SŁOWA
Otaczają mnie słowa, słowa, i słowa
Porastają mnie jak liście, wydaje się
Jakby nigdy nie przestawały  wyrastać
Z głębi mnie… Ale mówię sobie:  słowa
To plaga, strzeż się ich, bo
Mogą być niejednym:
Przepaścią, nad którą stopy w biegu muszą  stanąć,  by
Spojrzeć,  morzem  i jego obezwładniającymi  falami,
Podmuchem płonącego powietrza, albo też
Nożem, ktory bardzo pragnie podciąć  gardło  najlepszemu
Przyjacielowi… Słowa to plaga, ale
Porastają mnie jak liście drzewo
Wydaje się, jakby nigdy nie przestawaly wychodzić
Z ciszy , gdzieś z samej głębi mnie …
Przekład na polski: Mirosław Grudzień ꟷ Anna Maria Stępień
***
СЛОВА
Вокруг меня везде слова, слова, слова…
растут, как листья на деревьях,
и никогда расти не перестанут,
но я твержу себе – слова
назойливы, будь осторожна, они
быть могут всем –
обрывом – сделай шаг и упадешь,
и взглядом на застывшие морские волны,
сиянием пожара,
ножом, которым ты готов
разрезать другу горло… Слова назойливы, но
они растут, как на деревьях листья,
и никогда не прекратят расти
из той бездонной тишины внутри души.
Камала Дас, Индия 1934 – 2009
Перевод на русский язык Дарьи Мишуевой
Translated into Russian by Daria Mishueva
***
REČI
Svud oko mene reči, i reči, i reči,
Prekrivaju me kao lišće, čini se ne prestaju
Spor rast iz mene…Ali kažem sebi, reči su
Varljive, pazi se,
Mogu da znače toliko mnogo stvari,
Bezdan pred kim stopala moraju da stanu, da
Vide more talasa koji paralizuju,
Eksploziju vatre u vazduhu ili,
Nož koji će vrlo rado preseći grlo tvog
Najboljeg prijatelja… Reči su štetočine, ali
Rastu na meni kao lišće na mladici,
Izgleda neće nikada prestati da niču,
Iz tišine, negde duboko u meni…
Kamala Das, Indija 1934–2009
Sa engleskog prevelar S. Piksiades
Translated into Serbian by S. Piksiades
***
PALORI
Attornu a mia palori, palori e palori,
Mi crisciunu ncoddu comu fogghi, pari
Ca mai finisciunu di crisciri dinnintra…
Mi dicu: li palori sù un fastidiu,
piriculusi: ponnu essiri tanti cosi,
na lavanca unni li pedi ca currunu
s'hannu a firmari e taliari,
un mari di unni paralizzanti,
na vintata d'aria ca brucia
o un cuteddu prontu a tagghiaricci lu coddu
ô to megghiu amicu… Li palori sù un fastidiu,
ma mi criscinu ncoddu come fogghi d'arburu,
pari ca non finisciunu mai di nesciri
di lu silenziu, di na parti dintra di mia…
Kamala Das, India 1934–2009
Traduzioni in Siciliano di Gaetano Cipolla
***
சொற்கள்
என்னைச் சுற்றி சொற்கள், சொற்கள், சொற்கள்
இலைகளைப் போல என்மேல் வளர்கின்றன
அவை வளர்வது , தன்னுள்ளிருந்து
எனது மெதுவான
வளர்வை நிறுத்த முடியாது போல உள்ளது!
எனக்கே நான் கூறிக்கொள்கிறேன்
சொற்கள் தொல்லை தருவன
அவற்றில் பல இருக்கலாம்
அவற்றைப் பற்றி கவனமாக இருங்கள்
ஒரு வெடிப்பு ஊடே செல்கிறது
கால்கள் நடக்க வேண்டும் பார்க்க
ஒரு கடல் முடக்கும் அலைகளோடு!
நண்பர்களின் குரல்வளை……
சொற்கள் தொல்லை தருவன
இலைகளை மரத்தில் வளர்வதைப் போல என்மேல் வளர்கின்றன
அவை வருவது நிற்கும்படி தெரியவில்லை
ஆழத்தில் ஓர் அமைதியினின்று!
ஆக்கம்
கமலாதாஸ், இந்தியா 1934-2009
Translated into Tamil by DR. N V Subbaraman