688 | I carelessly take the shell… | Casimiro de Brito, Portugal
|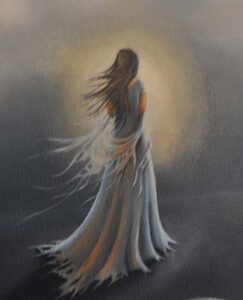 Detail, painting by J. Gardien, Belgium
I carelessly take the shell…
I carelessly take the shell
of the dew, the breeze of the one I love
as if these things contain
all mysterious virtue. They do. The shadow—
the inner peace of the one who lets pass
who passes: the sluggish fire that celebrates
the finest film
of the hidden female essence.
Casimiro de Brito, Portugal (1938)
Translation: Germain Droogenbroodt – Stanley Barkan
from "En la Vía del Maestro", Un viaje con Laozi
Ediciones Olifante, Tarazona, Spain
***
Tomo, descuidado, a concha / do orvalho / a brisa de quem amo / como se estas coisas contivessem / a virtude misteriosa. Contêm. A sombra ─ / a paz interior de quem deixa passar / quem passa: o fogo lento que celebra / a película mais fina / da obscura substância feminina.