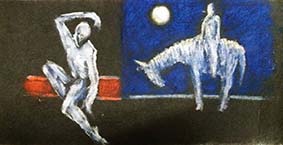 Painting by Nirman – Giacinto Laruccia, Italy
MAN
Man is hurt if a woman says to him, "You're nothing."
He could grab the knife and stab his shadow.
He may remove the fan from the ceiling and fly with it,
But he knows that Woman always tells the truth
And that Man is indeed nothing
Just dust that gathered in her womb and emerged
Just a rock that needs a soft hand to be softened.
And Man is also . . . a permanent disorder,
A fear that wanders the vast universe in search of two breasts.
And Man, even if he becomes mighty,
Is a slave to perfume,
A prisoner of Woman's specter roaming around free
In stray fantasies.
ADEL KHOZAM, Dubai – UAE
Translated by Dr. Heyam Abdulhamidl