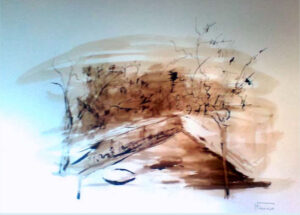 BEFORE THE FLOOD
In the evening trees
figures of pure air
elongated like cries
from afar,
and I wonder
if this is the farewell
or any other sign
of the end.
Because the earth is sinking
behind its horizon
nothing works anymore.
That is clear,
and what continues to exist
is a whimsical reflection
from all of us,
just for a while . . .
GÜNTER KUNERT (GERMANY, 1929-2019)
Translation: Germain Droogenbroodt
****
VOR DER SINTFLUT//In den Abendbäumen/Gebilde aus purer Luft/langgezogen wie Rufe/aus weiter Ferne/und ich frage mich/
ob das der Abschied sei/oder sonst ein Zeichen/des Endes//Denn die Erde versinkt/hinter ihrem Horizont/nichts geht mehr auf
das ist klar/und es bleibt/ein fahriger Widerschein/von uns allen/noch eine Weile//bestehen