695 | Evolution – Borche Panov – North Macedonia
|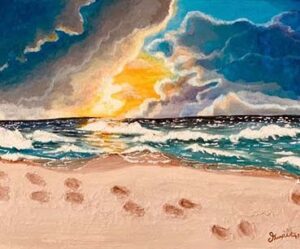 Footprints in the Sand, by Jodi Trujillo Art, Hawaii
We were naked
and then we saw the apple
with the worm inside
like an embryo of sorrow.
The watery balance beam
is forever leaking from our eyes,
seeking the big flood
with the ark of our salvation
hovering above.
The ocean leaves a flow of foam
on our ankles
while we are walking on the sand
of a long evolution.
The water erases the footprints
for us to forget
that we have ever been to paradise.
Borche Panov, North Macedonia, 1961
Translated by Daniela Andonovska-Trajkovska – Stanley Barkan