730 | LIKE A BOAT ON A LAKE – Xavier Villaurrutia, Mexico
|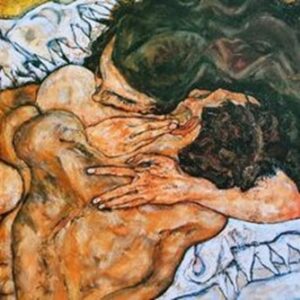 Egon Shiele 1890-1918
 Poem of the Week Ithaca 730, "LIKE A BOAT ON A LAKE", Xavier Villaurrutia, Mexico, 1903 – 1950
De "OBRAS", Letras mexicanas, Fondo de cultura Económica, México
– All translations are made in collaboration with Germain Droogenbroodt –
Poem in Frenc, Italian, German, Portuguese, Romanian, Greece, Icelandic and in Albanian, Arabic, Armenian, Bangla, Bosnian, Catalan, Chinese, Farsi, Hebrew, Hindi, Indonesian, Irish (Gaelic), Japanese, Kiswahili, Kurdish, Macedonian, Malay, Polish, Russian, Serbian, Sicilian, Tamil
COMME UN BATEAU SUR UN LAC
Le soir glissa lentement
tel un bateau sur un lac d'eau calme,
en ton sein tremblaient les violettes
qu'une haleine ardente caressait.
Là, près de la source, je te murmurais
dans le parc, qui garde les désirs secrets,
' je suis comme le mineur qui vénère
les filons de ta tendre passion.'
Le calme du feuillage se troubla,
et lorsque tu me dis doucement ' je t'adore'
on entendit un battement d'aile sur l'or
de ton front timide et passionné,
qui se posa doucement ce soir- là, et la nuit
étendit soudain son aile déployée.
XAVIER VILLAURRUTIA, Mexique, 1903 ─ 1950
Traduction Elisabeth Gerlache
***
COME UNA BARCA SU UN LAGO …
Il pomeriggio passa lentamente
come una barca su un lago d'acque ferme,
sul tuo petto fremono le violette
sotto le carezze di un respire infuocato.
Là ti ho sussurrato, accanto la fontana,
Nel parco che custodisce i desideri più segreti,
"io sono come un minatore che rispettosamente brama
le vene del tuo tenero affetto …"
E la pace sotto la pergola fu turbata,
quando dolcemente hai detto, "ti adoro!"
un batter d'ali fu udito sopra l'oro
del tuo capo timido e fervente,
come una riva quella sera, e la notte
all'improvviso stese le sue ali spiegate.
XAVIER VILLAURRUTIA, Messico, 1903 ─ 1950
Traduzione di Luca Benassi
***
WIE EIN BOOT AUF EINEM SEE …
DER ABEND glitt langsam dahin
wie ein Boot auf einem See mit ruhigen Wassern,
auf deiner Brust zitterten die von
glühendem Hauch liebkosten Veilchen.
Dort an der Quelle flüsterte ich dir zu,
in dem Park, der geheime Ängste bewahrt:
"Ich bin wie der Bergmann, der die Erzadern
deiner Zärtlichkeit ehrfurchtsvoll begehrt …"
Und der Friede des Laubwerks geriet aus der Fassung,
und als du mir ganz leise sagtest: "Ich bete dich an!"
hörte man Flügelschlagen über dem Gold
deines schüchternen und glühenden Kopfes,
das verbrämte jenen Abend, und plötzlich streckte
die Nacht ihren entfalteten Flügel aus.
XAVIER VILLAURRUTIA, Mexique
Übersetzung Germain Droogenbroodt – Wolfgang Klinck
***
COMO UM BARCO NUM LAGO …
A TARDE deslizou lentamente
como um barco num lago de águas tranquilas,
no teu peito tremeram as violetas
acariciadas por um sopro ardente.
Ali te murmurei junto à fonte,
no parque que guarda anseios secretos,
«Sou como o mineiro que as sendas
do teu carinho anseia reverente …»
E a paz no caramanchão foi perturbada.
Ao dizeres-me baixinho «Adoro-te!»
ouviu-se um bater de asas sobre o ouro
da tua cabeça tímida e apaixonada.
Aquela tarde terminou, e, de repente
estendeu a noite a sua asa despegada.
VILLAURRUTIA, XAVIER, México, 1903 – 1950
Tradução portuguesa: Maria do Sameiro Barroso
***
CA BARCA PE UN LAC …
SEARA aluneca încet
ca barca pe un lac cu ape line,
pe pieptu-ți, violete prinseră a tremura
sub dezmierdarea adierii înflăcărate.
Acolo ți-am șoptit, lângă fântână,
în parcul ce păzește a dorurilor taină:
"Eu sunt minerul ce smerit tânjește
după filonul farmecelor tale …"
S-a tulburat atunci pacea din ramuri,
iar tu mi-ai spus cu glas suav: «Te ador!»
și se auzi cum, înmuiată în aur,
o aripă sfioasă îți atingea fruntea înfierbântată.
Se destrămă atunci și seara, și deodată
se așternu a nopții aripă netezită.
XAVIER VILLAURRUTIA, Mexic, 1903 ─ 1950
Traducere: Gabriela Căluțiu Sonnenberg
Translated into Romanian by Gabriela Căluțiu Sonnenberg
***
ΒΑΡΚΑ ΣΤΗ ΛΙΜΝΗ
Ήρεμα πέρασε τ' απόγευμα
σαν βάρκα σε λίμνης τ' ακίνητα νερά
βιολέτες έκαιγαν στο στήθος σου
χαϊδεμένο απ' την καυτή ανάσα
Τότε σου ψιθύρισα, δίπλα στο συντριβάνι
στο πάρκο που φυλάσει τις μυστικές επιθυμίες,
είμαι σαν μιναδόρος που πεθυμά
τη φλέβα της τρυφερής σου αγάπης
Κι η ηρεμία των κλαδιών ταράχτηκε
κι όταν μουρμούρισες το «σε λατρεύω»
πέταγμα φτερών ακούστηκε πάνω απ'τη χρυσή,
δειλή και κι ολόφλογη σου κεφαλή
που έδεσε το δείλι, κι η νύχτα ξαφνικά
ξεδίπλωσε την διπλωμένη της φτερούγα

XAVIER VILLAURRUTIA, Mexico,
Μετάφραση Μανώλη Αλυγιζάκη
Translated into Greek by Manolis Aligizakis
***
SEM KÆNA Á TJÖRN …
KVÖLDIÐ leið í kyrrð og ró
sem kæna á tjörn, og engin gjóla.
Á brjósti þínu bærðist fjóla
við brennandi anda er í þér bjó.
Ég sagði lágt á lágri hæð,
í laufskrúði sem þrána geymir:
"Mig, sem námumanninn, dreymir
mildrar ástar þinnar æð …"
Þá lyfti skógur laufþakinu;
er ljúf þú sagðir, "Ég ann þér!"
og fuglinn heyrðist fljúga hér.
Andlit þitt svo ofur rótt,
enn í kvöld svo kyrrt. Og nótt
slær út víðu vænghafinu.
XAVIER VILLAURRUTIA, Mexíkó, 1903 ─ 1950
Þór Stefánsson þýddi
Translated into Icelandic by Thor Stefansson
***
SI NJË BARKË NË LIQEN …
PASDITJA kaloi ngadalë
si një barkë në një liqen me ujëra të qeta,
në gjoksin tënd u drodhën manushaqet
nga fryma e nxehtë të përkëdhelura.
Atje të pëshpërita, pranë shatërvanit,
në parkun që ruan dëshira të fshehta plot,
"Unë jam si minatori që në heshtje
venat e dashurisë tënde të butë ëndërron …"
Dhe paqja e degëve u prish,
dhe kur me ëmbëlsi më the, "Të adhuroj!"
një valëvitje krahësh u dëgjua mbi kokën
tënde të florinjtë, të ndrojtur e të zjarrtë,
që në mendje mbrëmjen e strehoi dhe nata
shtriu papritur drejt nesh krahët e saj.
XAVIER VILLAURRUTIA, Mexico, 1903 ─ 1950
Translated into Albanian by Irma Kurti
***
مِثْلُ قَارِبٍ فِي بُحَيرَةٍ…..
كَمِثْلُ قَارِبٍ فِي بُحَيرَةٍ رَاكِدَةٍ
يَمُرُّ المَسَاءُ بِبُطْءٍ
والبنفسج يهتز عَلَى صَدْرِي لِيُعَانِقَ
أَنْفَاسِيَ المُحْتَرِقَة
هُنَالِكَ هَمَسْتُ إِلَيكِ  بِالقُرْبِ مِنَ النَّافُورَةِ
فِي الحَدِيقَةِ التِي تخفي الحنين
"أَنَا كَمِثْلِ عَامِلِ مَنَاجٍمٍ يَتُوقُ بِشِدَّةٍ إِلى عُرُوقِ حَنَانِكِ"
وَعلى الرغم من أن أمَانُ تَعْرِيشَتُنَا قد تَلَاشَى
إلا أنه عِنْدَمَا قُلْتِ بِودَاعَةٍ:" أَعْشَقُكَ"
سَمِعْتُ رَفْرَفَةَ الأجْنِحَة الذهبية
التي تعلو رَأْسَكِ الخَجُولِ المحْمُوم
وهِي تُوارِي مَا قَد كُشِفَ
إِلَى أَنْ بَسط الليلُ فَجْأَةً جَنَاحَهَ المَضْمُومَ
تشافير فياأوروتيا (Xavier Villaurrutia)، المكسيك،1903-1950
ترجمة للعربية(من الانجليزية والاسبانية): عبد القادر كشيدة
Translated into Arab by Mesaoud Abdelkader
***
ԻՆՉՊԵՍ ՆԱՎԸ ԼՃԻ ՎՐԱ
Ցերեկը դանդաղ սահեց
ինչպես նավը` լճի անշարժ ջրերի վրա,
այրող շնչից շոյված
մանուշակներն էին դողում կրծքիդ:
Այնտեղ՝ այգու շատրվանի մոտ,
որ գաղտնի է պահում կարոտները, ես շշնջացի քեզ.
՛՛Ես նման եմ այն հանքագործին, ով հարգալից կարոտում է
քո քնքուշ սիրո երակները՛՛:
Եվ խաթարվեց  ճյուղերի անդորրը
ու երբ կամացուկ ասացիր՝՛՛Պաշտում եմ քեզ՛՛,
լսվեց քո երկչոտ և ջերմ գլխի
ոսկու վրայի թևաբախումը,
որ խարսխված էր այդ երեկո,
և գիշերը հանկարծ պարզեց իր թևերը բաց:
ԽԱՎԻԵՐ ՎԻԼԼԱՈՒՐՈՒՏԻԱ, Մեքսիկա, 1903 – 1950
Անգլ. թարգմ. Գերման Դրոգենբրութը և Սթեյնլի Բարքանը
Հայերեն թարգմանեց Արմենուհի Սիսյանը
Translated into Armenian by Armenuhi Sisyan.
***
যেন একটি হ্রদে একটি তরী …
অপরাহ্ন
ধীরে তরী … পর হয়ে যায়
যেন একটি হ্রদের স্থির পানিতে
একটি তরীর মতো,
তোমার বুকে ভায়োলেট ফুলেরা থর আরও করে
কাঁপে
আদর করে তোমার উত্তপ্ত
নিঃশ্বাস-প্রশ্বাস ।
সেখানে ফিসফিস করে আমি বলি
তোমায়, ফোয়ারার নিকটে,
সেই উদ্যানে যেথায় লুকায়িত থাকে
সকল গোপন ব্যাকুল আকাঙ্ক্ষা,
"আমি যেন এক খনিজীবী যে
শ্রদ্ধাভরে কামনা করে
তোমার শিরা-উপশিরার কোমল
মায়ার আবেগ …"
আর শাখা প্রশাখার
শান্তি হয়
 ব্যাহত,
আর যখন তুমি এত মৃদুস্বরে
বল আমায়, "আমি করি তোমার আরাধনা!"
ডানা ঝাপটানো যায় শোনা
তোমার স্বর্ণময়
উষ্ণ আর সচকিত
বোধশক্তির উপর,
যা আদরে কাছে টেনে ছিল
সেই সন্ধা, আর সেই রাত্রিকে
হঠাৎ করে প্রসারিত করেছিল তার
 উন্মোচিত আর উদ্ভাসিত ডানাগুলি ।
Bangla Translation: Tabassum Tahmina Shagufta Hussein
***
KAO BROD NA JEZERU …
Poslije podne je polako prolazilo
kao čamac na jezeru mirne vode,
na tvojim grudima su drhtale ljubičice
milovan gorućim dahom.
Tamo sam ti promrmljao, kraj fontane,
u parku koji čuva tajne čežnje,
"Ja sam poput rudara koji s poštovanjem čezne
za vene tvoje nježne naklonosti …"
I mir grana je narušen,
i kada si tako tiho rekao, "Obožavam te!"
nad zlatom se začulo lepršanje krila
tvoje plahe i vatrene glave,
koji je usidren te večeri i noći
iznenada ispružila svoje rašireno krilo.
XAVIER VILLAURRUTIA, Meksiko, 1903. ─ 1950
Prijevod Maid Čorbić – Stanley Barkan
Translated into Bosnian by Maid Corbic
***
COM A BARCA EN UN LLAC …
LA TARDA va lliscar lentament
com a barca en un llac d'aigües quietes,
al teu pit van tremolar les violetes
acariciades per un bufo ardent.
Allà et vaig murmurar al costat de la font,
al parc que guarda ànsies secretes,
"Jo sóc com el miner que les vetes
del teu afecte anhela reverent …"
I es va torbar la pau de l'enramada,
i en dir-me molt suau "Jo t'adoro!"
es va sentir un batre d'ales sobre l'or
del teu cap tímid i fervent,
va vorejar aquella tarda, i de sobte
va estendre la nit la seva ala desplegada.
VILLAURRUTIA, XAVIER, Mèxic, 1903 – 1950
Traducció al català: Natalia Fernández Díaz-Cabal
***
像湖面上的船······
这下午就像一艘船在静水
湖上慢慢地滑过去了,
你胸前的紫罗兰被灼热
的呼吸爱抚着而颤抖。
在这隐藏着渴望的公园里,
我在喷泉旁对你喃喃低语,
"我就像一个满怀敬意的采矿者,
渴望你温柔情爱的血管……"
树枝间的宁静被扰乱了,
而你如此温柔地说:"我崇拜你!"
你那羞怯而热诚的金色的头上
听得见翅膀的拍打声,
那晚那定锚,而那夜
突然伸出它展开的翅膀。
原作:墨西哥  圣·查威尔·维拉乌鲁蒂亚 1903-1950
英译:杰曼·卓根布鲁特-斯坦利·巴坎
汉译:中   国  周道模  2022-4-30
Translated into Chinese by Willam Zhou
***
مانند قایقی در دریاچه
بعدازظهر به آرامی می‌گذرد
و روی سینه‌مان بنفشه‌ها لرزان بودند
از نوازش نفس سوزان.
آنجا کنار فواره من برایت زمزمه کردم،
در پارکی که آرزوهای پنهانی را نگاه می‌دارد،
« من مانند معنچی هستم که با احترام
در آرزوی پیدا کردن رگه‌های محبت شماست..»
و صلح میان شاخ‌ها به هم ریخت
و‌قتی تو به آرامی گفتی« من تو را می‌پرستم!»
صدای بال زدن‌ها بر فراز سقف طلایی
بالای سر محجوب و پرشور تو شنیده می‌شد،
که آن غروب لنگر انداخت و شب
ناگهان بال گشوده‌اش را پهن کرد.
خاویر ویلایورروتیا، مکزیک،
ترجمه سپیده زمانی
Translated into Farsi by Sepedih Zamani
***
כמו סירה באגם /חַוָויֶר וִייאוּרוּטִיָה 
XAVIER VILLAURRUTIA, Mexico, 1903-1950
הָעֶרֶב גָּלַשׁ לְאַט
כְּמוֹ סִירָה בַּאֲגַם מַיִם שְׁקֵטִים,
עַל חָזֵךְ רָעֲדוּ הַסִּגָּלִיּוֹת
מְלֻטָּפוֹת בִּנְשִׁימָה לוֹהֶטֶת.
שָׁם לָחַשְׁתִּי לָךְ, לְיַד הַמִּזְרָקָה,
בַּפַּרְק שֶׁשּׁוֹמֵר גַּעְגּוּעִים סוֹדִיִּים,
"אֲנִי כְּמוֹ הַכּוֹרֶה שֶׁמִּשְׁתּוֹקֵק בְּיִרְאַת כָּבוֹד
לְחִבָּתֵךְ הָעֲדִינָה.."
וְשַׁלְוַת הָעֲנָפִים הֻפְרְעָה,
וּכְשֶׁאָמַרְתְּ בַּעֲדִינוּת כָּל כָּךְ, "אֲנִי מַעֲרִיצָה אוֹתְךָ!"
מַשַּׁק כְּנָפַיִם נִשְׁמַע מֵעַל זְהַב-
רֹאשֵׁךְ הַבַּיְשָׁן וְהַלּוֹהֵט
שֶׁעָגַן בְּאוֹתוֹ עֶרֶב, וְהַלַּיְלָה
מָתַח לְפֶתַע אֶת כְּנָפוֹ הַפְּרוּשָׂה.
תרגום מספרדית לאנגלית: ג'רמיין דרוגנברודט וסטנלי ברקן
תרגום מאנגלית לעברית: דורית ויסמן
הציור של אגון שילה
Egon Schiele, 1890 – 1918
Translated into Hebrew by Dorit Weisman
***
झील पर नाव की तरह …
दोपहर धीरे-धीरे बीत गई
शांत जल की झील पर नाव की तरह,
आपकी छाती पर वायलेट्स कांपने लगे
जलती हुई सांसों से सहलाया।
वहाँ मैं तुम पर कुड़कुड़ाया, फव्वारे के पास,
गुप्त लालसा रखने वाले पार्क में,
"मैं उस खनिक की तरह हूं जो सम्मान से चाहता है
आपके कोमल स्नेह की नसों के लिए।
      और डालियों की शान्ति भंग हो गई,
और जब तुमने इतनी कोमलता से कहा,
 "मैं तुमसे प्यार करता हूँ!"
पंखों की फड़फड़ाहट सुनाई दी
  डरपोक और उत्कट सिर के सोने के शीर्ष पर,
उस शाम को लंगर डाला,
 और रात
अचानक अपना खुला पंख फैला दिया।
जेवियर विलाउरुतिया, मेक्सिको, 1903 1950
ज्योतिर्मय ठाकुर द्वारा अनुवाद।
Hindi translation by Jyotirmaya Thakur.
***
SEPERTI PERAHU DI DANAU …
PETANG berlalu perlahan
seperi perahu di danau yang tenang,
di dadamu viola odorata bergetar
dibelai oleh nafas yang terbakar.
Aku bergumam padamu, di sisi air mancur,
di taman yang menyimpan rahasia rindu,
"Aku seperti penambang yang dengan takzim rindu
akan nadi kasih sayangmu yang lembut …"
Kedamaian cabang-cabang terganggu,
ketika kau begitu lembut berujar, "aku memujamu!"
kepak sayap terdengar di atas emas
dari kepalamu yang kokoh dengan rambut warna keemasan,
yang berlabuh pada petang, dan di larut malam
tiba-tiba merentang sayap dengan terbentang.
XAVIER VILLAURRUTIA, Mexico, 1903 ─ 1950
Translation Lily Siti Multatuliana (Indonesia)
***
MAR BHÁD AR LOCH CIÚIN ...
SHLEAMHNAIGH an tráthnóna tharainn
mar bhád ar bharr loch ciúin;
chrith na sailchuacha ar do chliabhrach
amhail leoithne bhog ar linn.
Rinne mé sioscadh i do chluas,
Labhaireas faoi rún an ghrá,
"Is mise an mianadóir ar thóir taisce,
ag tochailt le cíocras ceanna …"
Chrith na géaga le háthas
nuair a duaireas, "Is tú mo mhian!"
Os cionn do chinn bháin chúthail
Chualathas cleitearnach sciathán:
thit an oíche mar ancaire, an bád
is an loch ag bogadaíl fúinn.
XAVIER VILLAURRUTIA, Meicsiceo, 1903 ─ 1950
Leagan Gaeilge le Rua Breathnach
Translated into Irish (Gaelic) by Rua Breathnach
***
湖に浮かぶ舟のように
穏やかな湖面に浮かぶ舟のように
午後は静かに過ぎていった
あなたの胸の上でスミレの花がそよいだ
熱い吐息に抱きしめられながら
そこでわたしはあなたにささやいた
秘めたあこがれを持って
公園の噴水のそばで
「わたしはあなたのやさしい愛の鉱脈にあこがれる炭坑夫のようだ」
その後、枝々の平和は壊された
「あなたを深く慕っている!」と
あなたがやさしく言った時
黄金の上に羽がはためいた
あなたの控えめに燃えさかる心は
その夜を休ませ
突然にその拡げた羽を伸ばすのだ
ザビエル・ビジャウルティア
(メキシコ,1903-1950)
Translated into Japanese by Manabu Kitawaki
***
KAMA MASHUA KWENYE ZIWA ...
ALASIRI ilipita polepole kama mashua kwenye ziwa la maji tulivu,
juu ya kifua chako maua ya urujuani ilitetemeka ikibembelezwa na pumzi inayowaka.
Hapo nilikunung'unikia, karibu na chemchemi,
katika bustani ambayo huweka matamanio ya siri,
"Mimi ni kama mchimba madini ambaye kwa heshima anatamani mishipa ya upendo wako mwororo. . ."
Na amani ya matawi ikavurugika,
na uliposema kwa upole, "Ninakuabudu!"
sauti ya mbawa ikasikika juu ya dhahabu
ya kichwa chako cha woga na cha bidii, ambacho kilitia nanga jioni hiyo,
na usiku kwa ghafla ukanyoosha bawa lake lililokuwa halijafunguliwa.
XAVIER VILLAURRUTIA, Mexico, 1903 ─ 1950
Shairi limetafsiriwa na Bob Mwangi Kihara
Translated into Kiswahili by Bob Mwangi Kihara
***
MÎNA BELEMEKÊ LI SER ZERYAYÊ …
ÊVAR berebere wê de dixiliskî
mîna blemekê li ser zerya avhêmin,
li ser sîngê te binefş dilerzin,
sirweya teyisî pêşadibe.
Li wê derê li ber çehvkaniyê min guhbîhsî te dikir,
li wî baxê bîrkirinên nihênî diparêze,
"Ez mîna çiyavenekî di çala kanê de,
meraqdarê nazikiya teye rûmetdar im…"
Û aştiya xizêman têkçû,
û dema te ji min re binizmî got:" Ez lava ji te dikim!"
mera lêdana baskekê li ser zêr
ji seriyê te yî şermok û teyisî
ku ew êvara ciwantir kir û ji nişkava
şevê baskên xwe yên vekirî dirêjkirin.
XAVIER VILLAURRUTIA, 1903 – 1950, Meksîk
Translation into Kurdish by Hussein Habasch
***
КАКО БРОД НА ЕЗЕРОТО ...
ПОПЛАДНЕТО полека минуваше
ко брод на езеро со мирни води,
на градите твои темјанушки трепереа
милувани од огнен здив.
Ти промрморев таму тебе, блиску до фонтаната,
во паркот што ги чува копнежите тајни,
"Јас сум како рудар што со почит копнее
по вените на нежната љубов твоја …"
И мирот на гранките беше прекинат,
и кога ти толку нежно рече: "Те обожавам!"
мавтање на крилја се чу над златото
од твојата плашлива и жестока глава,
се закотвија тие таа вечер, и ноќта
одеднаш го протегна своето раширено крило.
Ксавиер Виљаурутија, Мексико, 1903 ─ 1950
Xavier Villaurrutia, Mexico, 1903 ─ 1950
Translation into Macedonian: Daniela Andonovska-Trajkovska
Превод на македонски: Даниела Андоновска-Трајковска
***
BAK SAMPAN DI TASIK …
TENGAH HARI itu berlalu perlahan
bak sampan di tasik berair tenang,
di dadamu rimbun ungu bergetar
dipeluk oleh nafas terbakar.
Di situ aku merungut kepdamu, berhampiran air pancut,
dalam taman yang menyimpan kerinduan rahsia,
"Aki bak pelombong yang tegas merindui
saraf kasih sayangmu yang lembut …"
Dan keamanan dahan-dahan terganggu,
dan apabila kau bersuara lembut, "aku memujamu",
kibaran kepak-kepak terdengar di atas emas
minda dan kepalamu yang takut dan bersungguh-sungguh
yang mengikat petang itu, dan malam
tetiba mengembang keluar kepaknya yang terbentang
XAVIER VILLAURRUTIA, Mexico, 1903 ─ 1950
Malayan translation by Irwan Abu Bakar
***
JAK ŁÓDŹ PO JEZIORZE. …
WIECZÓR  sunął powoli
niczym łódź na spokojnym jeziorze
na Twojej piersi drżały fiołki
pieszczone płomiennym oddechem.
Szeptałem Ci tam, przy fontannie
W parku, który strzeże pragnień tajemnych
"Jestem jak górnik, który z czcią pożąda
żył twojej czułości …"
I zmącił się pokój splątanych gałązek
I gdy tak cicho mi powiedziałaś "Uwielbiam cię!"
dał się słyszeć trzepot skrzydeł nad złotem
Twej płochliwej i żarliwej głowy
który dopełnił tego wieczoru,  i nagle
rozpostarła noc swoje zwinięte skrzydło.
XAVIER VILLAURRUTIA, Meksyk, 1903 ─ 1950
Przekład na polski:  Mirosław Grudzień – Anna Maria Stępień
Translated to Polish: Mirosław Grudzień – Anna Maria Stępień
***
СЛОВНО ЛОДКА НА ОЗЕРЕ
Вечер медленно плыл мимо,
словно лодка на тихом озере.
В твоей груди дрожали фиалки,
обласканные огненным дыханием.
Там у фонтана я тебе шептал,
в том самом парке, что хранит наши секреты:
"Я как шахтер, который в недрах твоих
спускается к нежному сердцу».
И тишина в кронах деревьев всколыхнулась,
и тихо ты сказала: «Я тебя люблю!»
И стало слышно взмах крыла над золотом
твоей робко склоненной пламенной головы.
Вечер остановил мгновение, а ночь
внезапно расправила крылья.
ВИЛЬЯУРРУТИЯ ХАВЬЕР, Мексика, 1903 – 1950
Перевод Гермайна Дрогенбродта
Перевод на русский язык Дарьи Мишуевой
Translated into Russian by Daria Mishueva
***
KAO ČAMAC NA JEZERU …
Poslepodne klizi polako
kao čamac po mirnoj vodi jezera
a na tvojim grudima ljubičice drhte
milovane plamenom mog daha.
Tamo, blizu fontane,
u parku koji pobuđuje tajne čežnje,
šaputao sam ti:
Ja sam rudar koji pažljivo traži
vene tvoje tople ljubavi …
Uznemirile se grane
kada si tiho rekla: Obožavam te!
Lepetanje ptičijih krila se čulo
iznad pronađene vene zlata,
tvoje lepe glave
koja je usidrila to veče i tu noć
odjednom na razvijenim krilima
XAVIER VILLAURRUTIA, Mexico, 1903 ─ 1950
Sa engleskog prevela S. Piksiades
Translated into Serbian by S. Piksiades
***
COMU NA BARCA NTA NU LAGU
La bascurata si sfila lentamenti
comu na barca nta nu lacu d'acqua cueta
supra u to pettu trimaru li viuletti,
accarizzati d'un rispiru ardenti.
Ddà ti ciuciuliaiu junciutu a la funtana
ntô parcu ca teni anzii sicreti.
"Iò sugnu lu minaturi ca spinna cu rivirenza
pi li vini dû to affettu.
E si turbau la paci ntra li rami
e quannu mi dicisti:"iò ti adoru"
si sintiu un battiri d'ali aperti supra l'oru
di la to testa timida e ferventi,
girau attornu a la basciura e ntôn nenti
spiegavu la so ala versu la notti.
XAVIER VILLAURRUTIA, Mexico, 1903 – 1950
Traduzioni in sicilianu di Gaetano Cipolla
***
ஏரியில் படகுபோல
சலனமற்ற நீரில் நிற்கும் படகுபோல
பிற்பகல் மெதுவாகச சென்றது
உனது இதயத்தில் இருக்கும் நீல மலர் நடுங்கியது
எரியும் மூசசு தடவிவிட்டது போல !
அங்கே உனக்கு முணுமுணுத்தேன்
நீர் ஊற்றின அருகே
இரகசிய முணுமுணுப்பை
காத்து நிற்கும் பூங்காவில் !
"சுரங்கப் பணியாள் போல உனது மென்மையான
அன்பின் நாளங்களுக்காக
மரியாதையுடன் ஏங்கிக்கொண்டிருக்கிறேன்!
அன்பின் கிளைகள் சசற்றே தகர்ந்தன
நீ மெதுவாக " நான் உன்னை அன்பினால் பாராட்டுகிறேன்"
என்று கூறிய பொழுது!
உனது அடக்கமான தணியாப் பற்றுள்ள
தங்கத் தலையில் இறகு பறக்கும் ஒலி கேட்டது.
இறக்கிவிடப்பட்ட மாலையும் இரவும்
திடுமென நீண்டது!
XAVIER VILLAURRUTIA, Mexico, 1903 ─ 1950
Translated into Tamil by DR. N V Subbaraman