737 | Sérénité – MARIA NIVEA ZAGARELLA (Sicile)
|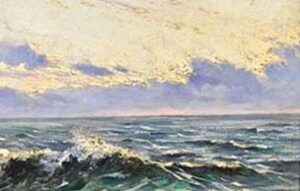 Poem of the Week Ithaca 737,"FAIR WEATHER",
MARIA NIVEA ZAGARELLA (Sicilië)
– All translations are made in collaboration with Germain Droogenbroodt –
Poem in French, Italian, German, Greek, Portuguese, Romanian and in Albanian, Arabic, Bosnian, Bangla, Catalan, Chinese, Farsi, Hebrew, Hindi, Indonesian, Irish (Gaelic), Japanese, Kiswahili, Kurdish, Malay, Polish, Russian, Serbian, Sicilian, Tamil
SÉRÉNITÉ
Dors, mon tout petit, ta maman va te consoler.
Durant l'orage les éclairs ont illuminé la nuit
et une sombre brume aveugle la pensée,
mais le cœur goûte un dernier enchantement
et l'herbe pousse…
les roses s'enflamment
la douce rosée
festonne les fleurs de l'oranger
et réveille l'âme.
De la mer j'ai fait naître lumière et beauté,
la mer est mon berceau, le vent
mon souffle…
MARIA NIVEA ZAGARELLA (Sicile)
Traduction Elisabeth Gerlache
***
SERENO
Dormi, piccola, ché la madre ti conforta
La notte imbiancò di lampi nella tempesta
e nebbia scura acceca il pensiero
ma il cuore conosce un ultimo incantesimo
e l'erba cresce…
divampano le rose,
rugiada zuccherata della mattina
che la zagara ricama
e l'anima stuzzica
Di mare ti ho allevata, luce e bellezza,
è culla il mare, vento
è il fiato mio…
MARIA NIVEA ZAGARELLA (Sicilia)
Traduzione in Italiano di Maria Nivea Zagarella
***
FRIEDLICH
Schlaf, Kleines, lass deine Mutter dich trösten.
Die Nacht erhellte sich mit Blitzen im Sturm
und dunkler Nebel blendet den Gedanken
aber das Herz kennt einen letzten Zauberspruch
und das Gras wächst
Rosen blühen auf
Der süsse Morgentau
bestickt die Orangenblüten
und erregt die Seele.
Aus dem Meer habe ich dich erhoben, Licht und Schönheit,
das Meer ist meine Wiege, der Wind
ist mein Atem…
MARIA NIVEA ZAGARELLA (Sizilien)
Übersetzung– Germain Droogenbroodt –
Wolfgang Klinck
***
ΚΑΛΟΣ ΚΑΙΡΟΣ
Κοιμήσου, παιδάκι μου, η μαμά σου θα σε φροντίσει.
H καταιγίδα φώτισε τη νύχτα μ' αστραπές
κι η πυκνή ομίχλη στραβώνει το νου
μα η καρδιά γνωρίζει το μυστικό
και το γρασίδι μεγαλώνει
τριαντάφυλλα ανθίζουν
γλυκιά πρωινή δροσιά κεντά πέταλα λουλουδιών
και τονώνει την ψυχή
καθώς σε ύψωσα απ' τη θάλασσα, φως κι ομορφιά,
η θάλασσα μια κούνια
κι αγέρας η ανάπνοια μου
MARIA NIVEA ZAGARELLA (Sicily)
Μετάφραση Μανώλη Αλυγιζάκη
Translated into Greek by Manolis Aligizakis
***
TRANQUILIDADE
Dorme, menino, que a mãe te conforta.
A noite embranquece com relâmpagos na tempestade
e a névoa obscurece o pensamento
mas o coração conhece um último encantamento
e a erva cresce
as rosas despontam,
o orvalho doce da manhã
borda a flor da laranjeira
e acorda a alma.
Do mar te elevei em luz e beleza,
o mar é berço, o vento
o meu alento…
MARIA NIVEA ZAGARELLA (Sicília)
Tradução portuguesa: Maria do Sameiro Barroso
***
SENIN
Dormi, micuțo, primește a mamei mângâiere.
Noaptea albește sub potop de fulgere în furtună,
iar ceața întunecată orbește gândul,
însă descântul de pe urmă inima îl știe
iarba îl crește…
înfloresc trandafirii
a dimineții dulce rouă
brodată în flori de portocal
sufletul îl alintă.
Te-am ridicat din mare, lumină, frumusețe,
marea mi-e leagăn, pe când vântul
îmi e suflarea…
MARIA NIVEA ZAGARELLA (Sicilia)
Traducere: Gabriela Căluțiu Sonnenberg
Translated into Romanian by Gabriela Căluțiu Sonnenberg
***
NINULLË
Fli, vogëlushe, nënën e ke pranë
nga vetëtima e stuhia nata u zbardh
dhe mjegulla e errët mendimin verbon
por zemra e njeh magjinë gjithmonë
dhe bari rritet…
trëndafilat lulëzojnë,
vesa e ëmbël e mëngjesit lulen e portokallit
qëndis dhe shpirtin ngacmon.
Buzë detit të rrita, bukuri e rrallë,
deti është djep, fryma ime
është fllad…
MARIA NIVEA ZAGARELLA (Siçili)
Translation into Albanian: Irma Kurti
***
هَادِيءٌ
نَمْ  يَا صَغِيري نَمْ… فَأَنَا هُنَا من أَجْلِك
 لِأُرِيحَكَ
بَرْقُ العَاصِفَةِ يُصَيِّرُ الليلَ اَبْيَضًا
وَالضَّبَابُ الحَالِكُ يُرْبِكُ الفِكْرَ
إِلا أَنَّ قَلْبِي مَا يَزَالُ يَعْرِفُ تَهْوِيدَةً سِحْرِيَّةً أَخيرَةً
العُشْبُ يَنْمُو والزُّهُورُ تَتَفَتَّحُ
يُثُيرُ الرُّوحَ
قَطْرُ النَّدى  وَهُو يُطَرِّزُ الصَّبَاح الجَمِيلِ بِزُهُورِ البُرْتُقَال
رَبَّيْتُكَ عَلَى البَحْرِ، النُّور والجَمَال
البَحْرُ كَانَ المَهْدَ والرِّيحُ أَنْفَاسِي
ماريا نيفيا زاغريلا (Maria Nivea Zagarella)، صقلية –إيطاليا.
ترجمة للعربية (من والإيطالية و الإنجليزية): عبد القادر كشيدة
Translated into Arab by Mesaoud Abdelkader
***
শান্ত আবহাওয়া
ঘুমোও, আমার ছোট্ট প্রিয়জন তোমার মা
এইখানে আছে তোমায় স্বস্তি দিতে
ঝড় রাতকে করেছে ধবলিত
বিদ্যুৎ চমকানির
দিয়ে
কয়েকটি আর গভীর কুয়াশা অন্ধ করে মন
কিন্তু হৃদয় জানে যে একটি শেষ ইন্দ্রজাল
এবং ঘাস জন্মায়…
গোলাপের প্রস্ফুটিত হয়,
মিষ্টি ভোরের শিশির বিন্দু কমলার পুষ্প বিকাশের অলংকার
আর করে উজ্জীবিত আত্মাকে
আমি তোমায় করেছি উত্থাপন সাগর হতে,
আলো আর সৌন্দর্য,
সাগর যে দোলনা, বাতাস
আমার নিজের শ্বাস প্রশ্বাস…
মারিয়া নিভা জাগারেলা (সিসিলি)
Bangla Translation: Tabassum Tahmina Shagufta Hussein
***
STRAŠNO VRIJEME
spavaj, mala moja, tvoja majka je tu da te utješi
oluja je munjama zabijelila noć
a tamna magla zasljepljije um
ali srce zna za posljednju magičnu čaroliju
i trava raste…
ruže cvjetaju,
slatka jutarnja rosa koja vez cvjetove narandže
i stimuliše dušu
od mora sam te podigao, svjetlost i ljepota,
more je kolijevka, vjetar
je moj vlastiti dah…
MARIA NIVEA ZAGARELLA (Sicilija)
prijevod na bosanski MAID ČORBIĆ
***
SERENOR
Dorm, petita, perquè la mare et reconforta
La nit es va blanquejar amb llamps en la tempesta
i la boira fosca encega el pensament
però el cor coneix un darrer encanteri
i l'herba creix…
flamen les roses,
dolça rosada matinal
que broda la flor del taronger
i l'ànima es burla
T'he criat vora el mar, llum i bellesa,
el mar és bressol, vent
és el meu alè…
MARIA NIVEA ZAGARELLA (Sicilia)
Traducció al català: Natalia Fernández Díaz-Cabal
***
安 宁
睡吧,宝贝,妈妈在安慰你
暴风雨夹着闪电白亮了夜晚
而这黑浓的雾蒙瞎了心灵
但心却知道一个最后的魔咒
而草在生长……
玫瑰绽放,
芬芳的晨露在晶亮橘子花
还激励这灵魂
我把你从海、光和美中抚养成人,
大海是摇篮,风
则是我自己的呼吸……
原 作:意大利(西西里) 玛丽亚·尼维亚·扎加雷拉
英 译:盖塔诺·西波拉
汉 译: 中     国   周道模   2022-6-25
Translated into Chinese by Willam Zhou
***
آسمان صاف
بخواب کوچولوی من، مادرت اینجاست تا آرامت کند.
طوفان شب را با رعد و برق سفید کرد
و مه سیاه ذهن را کور می‌کند
اما قلب آخرین طلسم جاویی را می‌داندو علف‌ها می‌رویند..
رز‌ها می‌شکفند،
شبنم شیرین صبح‌گاهی شکوفه‌های پرتقال را می‌آراید
و روح را تحریک می‌کند
من تو را از دریا، نور و زیبایی آفریدم،
دریا گهواره ست
باد نفس خودم است
ماریا نیویا زاگارلا  ,سیسیلی
سپیده زمانی
Translated into Farsi by Sepedih Zamani
***
યોગ્ય વાતાવરણ
સૂઈ જા, મારા નાના ભૂલકાં, તારી માતા તને રાહત આપવા અહિં જ છે
વાવાઝોડું વીજળીથી રાતને સફેદ કરી રહ્યું છે
અને આ ગાઢું ધુમ્મસ મગજને આંધળું બનાવી રહ્યું છે
પરંતુ હૃદય જાણે છે કે એક અંતિમ જાદુઈ મંત્ર
અને ઘાસ ઉગશે…
ગુલાબ ખીલશે,
મીઠી સવારની ઝાકળ કેસરી કળીઓને ગૂંથી રહી છે
અને આત્માને ઉત્તેજિત કરી રહી છે
મેં તને દરિયામાંથી ઉછેર્યો છે, પ્રકાશ અને સુંદરતા ,
દરિયો પારણું છે, પવન
મારો પોતાનો શ્વાસ છે.
MARIA NIVEA ZAGARELLA (Sicily)
Translation in Gujarati byDr Nirali Soni
***
רגוע / מריה ניבאה זגרלה, סיציליה
Maria Nivea Zagarella
נוּמָה, קְטַנְטַנִּי, אִמְּךָ כָּאן לְנַחֲמְךָ
בָּרָק הִלְבִּין אֶת הַלַּיְלָה בַּסְּעָרָה
וְהָעֲרָפֶל הָאָפֵל מְסַמֵּא אֶת הַנֶּפֶשׁ
אַךְ הַלֵּב יוֹדֵעַ לַחַשׁ פִּלְאִי אַחֲרוֹן
וְהַדֶּשֶׁא גָּדֵל…
וְרָדִים מְלַבְלְבִים,
טַל בֹּקֶר מָתוֹק רוֹקֵם פְּרִיחַת תַּפּוּז
וּמַמְרִיץ אֶת הַנְּשָׁמָה
הֵרַמְתִּי אוֹתְךָ מֵהַיָּם, אוֹר וְיֹפִי,
הַיָּם הוּא עֶרֶשׂ, הָרוּחַ
הִיא נְשִׁימָתִי שֶׁלִּי…
תרגום מאיטלקית לאנגלית:
Gaetano Cipolla
תרגום מאנגלית לעברית:
דורית ויסמן
Translated into Hebrew by Dorit Weisman
***
अच्छा मौसम
सो जाओ, मेरी छोटी,
तुम्हारी माँ यहाँ तुम्हें आराम देने के लिए है
तूफान ने रात को बिजली से सफेद कर दिया
और काला कोहरा मन को अंधा कर देता है
लेकिन दिल एक आखिरी जादू जानता है
और घास उग आती है…
गुलाब खिलने लगते हैं,
मीठी सुबह की ओस कशीदाकारी नारंगी फूल
और आत्मा को उत्तेजित करता है
मैंने तुम्हें समुद्र, प्रकाश और सुंदरता से उठाया है,
समुद्र पालना है, हवा
मेरी ही सांस है…
मारिया निविया ज़गारेला (सिसिली)
ज्योतिर्मय ठाकुर द्वारा हिंदी अनुवाद l
Hindi translation by Jyotirmaya Thakur.
***
CUACA CERAH
Tidurlah, nak, ibumu ada di sini untuk menghibur
Badai memutihkan malam dengan kilat dan guntur
Dan kabut gelap membutakan pikir
tapi hati tahu satu mantra dan sihir terakhir
dan rerumputan tumbuh besar…
mawar mekar
embun pagi yang manis bunga citrus tersulam
dan jiwa terangsang
aku mengangkatmu dari laut, cahaya dan keindahan
laut adalah buaian, angin
adalah nafasku sendiri …
MARIA NIVEA ZAGARELLA (Sicily)
Indonesian Translation by Lily Siti Multatuliana
***
SOINEANN
Codail, a mhuirnín, tá do mháthair led thaobh;
Gealaíonn soilse tintrí an oíche,
Is tá an fharraige faoi bhrat ceo.
Rún diamhair mo chroí thú
Ag fás mar a bheadh síol…
Craobh ag teacht i mbláth,
nó drúcht
ar bharr bhachlóige.
Sciob mé ón bhfarraige thú, a lóchrann áthais,
ó chliabhán na dtonnta, le puth gaoithe
m'anála…
MARIA NIVEA ZAGARELLA (an tSicil)
Aistrithe go Gaeilge ag Rua Breathnach
***
ある晴れの日に
お眠りなさい、わたしの赤ちゃん
お母さんがあやしてあげるよ
嵐の夜は稲妻で空が白み
暗い霧は心をとざす
しかし心は最後の魔法を知っている
草は育ち、バラの花が咲く
甘い朝露はオレンジ色の花に縫い込まれ
魂をかき立てる
わたしはあなたを海と光の美しさで育てた
海はゆりかごで
風はわたしの息づかいだ
マリア・ニヴェラ・ザガレラ(シチリア)
Translated into Japanese by Manabu Kitawaki
***
HALI YA HEWA NZURI
Lala mdogo wangu, mama yako yuko hapa kukufariji
Dhoruba iliangaza usiku kwa umeme
na ukungu wa giza hupofusha akili
lakini moyo unajua uchawi wa mwisho
na nyasi hukua…
maua ya waridi,
urembeshaji wa umande wa asubuhi tamu
maua ya machungwa
na huchangamsha nafsi
nilikulea kutoka baharini, mwanga na uzuri,
bahari ni ngome,
upepo ni pumzi yangu mwenyewe…
MARIA NIVEA ZAGARELLA (Sicily)
Watafsiri ni Gaetano Cipolla na Bob Mwangi Kihara
***
BI AŞTÎ
Xew, zaroyo, bihêle bila dayîka te, te hêdîbike.
Şev bi birûskên bahozê rondibe
û mija tarî mitaleyê kwîrdike
lê dil gotina dawiyê cadûyî zane
û giya diçezire
gul geşdibin
xunava bedew
kulîkên purteqalê dineqşîne
û cên hizandike.
Ji zeryayê min tu hilda, ronahî û ciwanî,
zerya landika min e,
ba henaseya min e…
MARIA NIEVEA ZAGARELLA, Sîqîlye
Translation into Kurdish by Hussein Habasch
***
CUACA YANG BAIK
Tidurlah, anakku, ibumu di sini untuk memanjakan kau
Ribut menerangi malam dengan kilat
dan kabus gelap membutakan minda
tetapi hati mengetahui satu mantra ajaib terakhir
dan rumput tumbuh…
mawar-mawar mekar,
kabus pagi yang manis menyulami bebunga oren
dan mengerakkan roh
kuangkat kau dari laut, ringan dan cantik,
laut ialah buaian, bayu
ialah nafasku sendiri…
MARIA NIVEA ZAGARELLA (Sicily)
Translated into Malay by Irwan Abu Bakar
***
BŁOGIE UKOJENIE
Śpij, malutka, niech matka cię utuli
Burza  rozjaśniła noc błyskawicami
a ciemna mgła zakłóca myśli
ale serce zna ostateczne  zaklęcie
i trawa wzrasta…
rozpłomieniają się róże
słodka rosa poranka
niech cyzeluje kwiat pomarańczy
i porusza duszę
Nad morzem cię wychowałam, wśród światła i piękna
morze kołyską,  a wiatr
to oddech mój …
MARIA NIVEA ZAGARELLA (Sycylia)
Przekład na polski: Mirosław Grudzień – Anna Maria Stępień
Translated to Polish: Mirosław Grudzień – Anna Maria Stępień
***
БЕЗОБЛАЧНО
Спи, малыш, пусть мама тебя качает.
Молнии ночью светили во время грозы,
черный туман ослеплял твои мысли,
но сердце увидит еще волшебств –
и вырастет трава…
розы распустятся огнем,
свежая утренняя роса
вышьет узор на лепестках цветов апельсинового дерева,
проснется душа.
Из океана я зову сюда свет и красоту,
океан – моя колыбель, ветер –
мое дыхание…
Мария Нивеа Дзагарелла (Сицилия)
Перевод на русский язык Дарьи Мишуевой
Translation into Russian: Daria Mishueva
***
USPAVANKA
Spavaj čedo, mama te čuva
Noć osvetljena munjama oluje
a mračna magla oslepljuje misao
ali srce zna zadnju čaroliju
i trava raste…
ožive ruže
a cveće narandžino veze
slatku jutarnju rosu
duši za radost
Odgajam te kraj mora, uz svetlost i lepotu,
more ti je kolevka
a vetar moj dah…
MARIA NIVEA ZAGARELLA (Sicilija)
S engleskog prevela S. Piksiades
***
SERENU
Dormi, nica, ca a matri ti cunorta
A notti allampau ni la timpesta
e negghia scura annorba lu pinzeri
ma sapi u cori n'urtima fattura
e l'erba crisci…
svampunu li rosi,
jilata nzuccarata ra matina ca a zagara raccama
e l'arma stuzzinìa
Di mari t'addivaju, luci e biddizza,
è naca u mari, ventu
è u ciatu m…
MARIA NIVEA ZAGARELLA (Sicilia)
Traduzioni in sicilianu di Gaetano Cipolla
***
அழகான வானிலை
புயல் மின்னலோடு வெளுமை ஆயிற்று
கருமையான மூடுபனி மனத்தை குருடாக்குகிறது
ஆனால் இதயத்திற்குத் தெரியும்
ஒரு இறுதி மந்திரம்
புல் வளர்கிறது
ரோஜாக்கள் மலர்கினறன
இனிமையான காலைப்பனித்துளிகள்
ஆரஞ்சு மலரவதை எம்ப்ராய்டரித்து
ஆன்மாவை கிளரசசியூட்டுகிறது
கடல், ஒளி, அழகு இவற்றிநின்று உன்னை எழுபபுகிறேன்
கடல் தொட்டில், காற்று எனது சொந்த மூசசு
ஆக்கம்
MARIA NIVEA ZAGARELLA (Sicily)
Translated into Tamil by DR. N V Subbaraman