Projección de Poesía y Luz en la Plaza San Marco de Venecia
|
El artista veneciano Marco Nereo Rotelli, de quien sietes veces obras han sido expuesto en la Biennale di Venezia, fundó en 2000 "ART PROJECT", una combinación de obras de arte y poesía. Todo el mes de diciembre 2015 se proyectan poemas de 83 poetas italianos y extranjeros en la Plaza San Marco. Se ha publicado también un libro del proyecto Poesia e Luce Venezia con los poemas de los 83 poetas en varias lenguas, ilustrados por Marco Nereo Rotelli, incluso el poema "Venece" de Germain Droogenbroodt.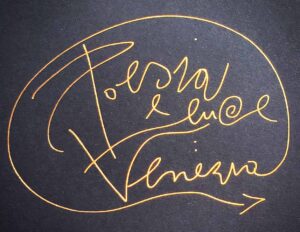 Venice
 As if time did not engrave
its wrinkles in your beautiful face

flowing between old
and new times
the water
 passing by
below your countless bridges
apparently the same and unchanged
the water passing by

as so many artists who created Venice
but left traces of eternal beauty.
 Germain Droogenbroodt