746 | Een dwaas mens – Ann Christine Tabaka, VS
|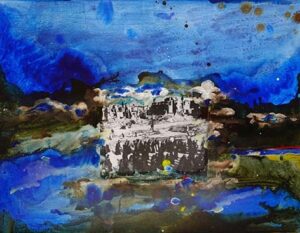 Collage humanities, John Hacking, Nederland
Een dwaas mens
De legende vertelt over een dwaas mens.
Hij staat voor zichzelf,
hij staat voor niemand anders,
en legt aan niemand verantwoording af.
Een spoor van vernieling ligt op zijn pad.
Zijn eeltige vingers komen overeen met zijn eeltige hart.
Zwarte stroken van weerzin en verlangen
vernietigen elk bewijs van medelijden,
als medelijden ooit een adem haalde.
Op zoek naar onbereikbare dromen,
hakt hij het bos om
om ruimte te maken voor zijn bevrijding,
zinloos alles vernietigend.
Kale woestenijen resten,
waar ooit groene bossen gedijden.
Torenhoge bouwwerken van nagestreefde rijkdom
heersen over verarmde hoop.
Levens verpletterd onder het gewicht van
een koppige behoefte om te overmeesteren.
Alles wat mooi en goed is wordt verwoest
om de portie van een dwaas te verkrijgen.
Hij is in onze wereld gekropen
hij leeft nu onder ons.
Ann Christine Tabaka (USA)
Vertaling Germain Droogenbroodt
* uit "Atunis Galaxy Anthology 2023", Demer Press
***
A Foolish Man / Legend tells of a foolish man. / He stands before himself, / he stands before no one else, / answers to none. / A wake of / destruction in his path. / His calloused fingers match his calloused heart. / Black streaks of loathing and desire /overturning any evidence of compassion, / if ever compassion drew a breath. / Seeking unattainable dreams, / he axes down the forest / to make room for his redemption, / senselessly destroying all. / Barren wastelands stand, / where once green woodlands thrived. / Towering edifices of aspired wealth / reign over impoverished hope. / Lives crushed under the weight of / a headstrong need to overmaster. / Razing all that is beautiful and right /to obtain a fool's portion. /He has crept into our world / he lives among us now.